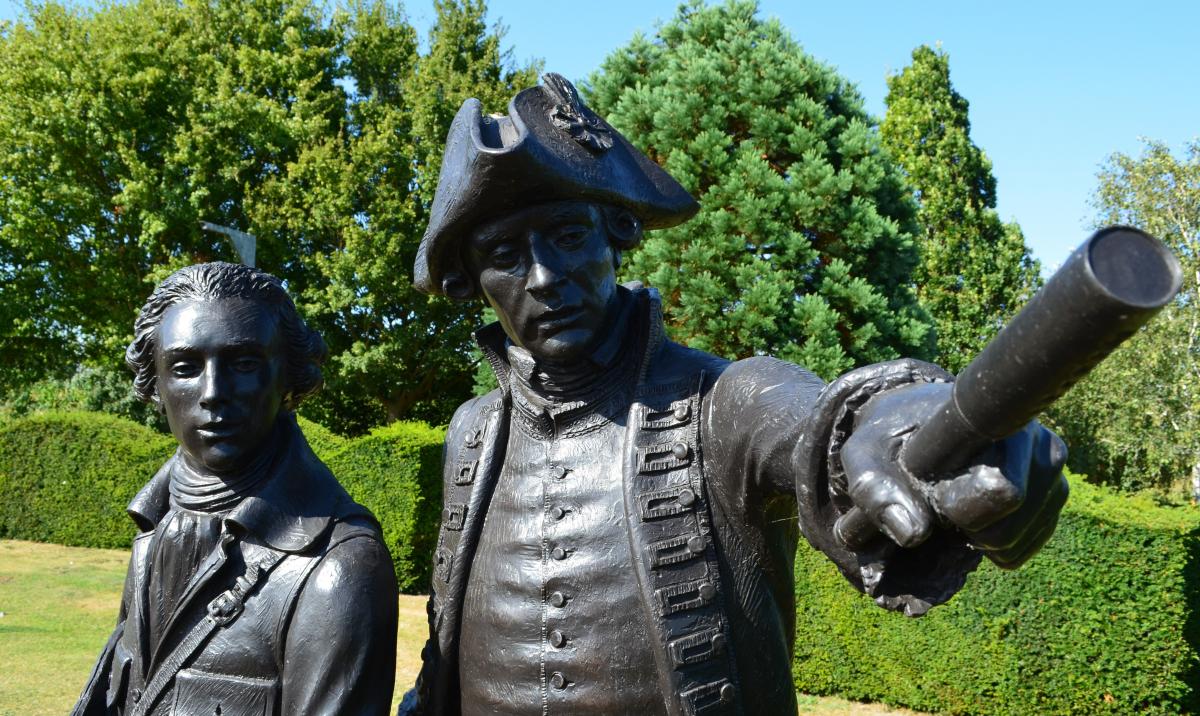 The Garden of Heroes and Villains
The Garden of Heroes and Villains
Set in beautifully landscaped gardens, the Garden of Heroes and Villains is home to more than 50 life-size, bronze statues of some of the most iconic figures in history.
Only open for a limited number of days each year (see dates for 2024 below), this private sculpture garden was commissioned by the Heart of England Forest's late founder, Felix Dennis, and it is one of the largest and most personal collections of figurative sculptures in the world. 
After his death the garden was bequeathed to the Heart of England Forest and remains a centrepiece of our fundraising activities.
What is there to see?
Cultural icons Bob Dylan, Billie Holliday, Josephine Baker stand side-by-side with The Beatles, William Shakespeare and rock 'n' roll pioneer Chuck Berry among others.
Figures who shaped the 20th century including adventurer Lawrence of Arabia, Muhammed Ali, Stephen Hawking, Sir Winston Churchill rub shoulders with four-minute-miler Sir Roger Bannister and computer masterminds Charles Babbage and Ada Lovelace. The list of VIPs goes on and on.
Famous characters of literature and mythology including Alice and the White Rabbit, The Minotaur, Sherlock Holmes,the Owl & the Pussycat and King Kong also reside amongst this truly unique collection.
It is a personal collection of saints and sinners made by 28 of the world's finest portrait sculptors.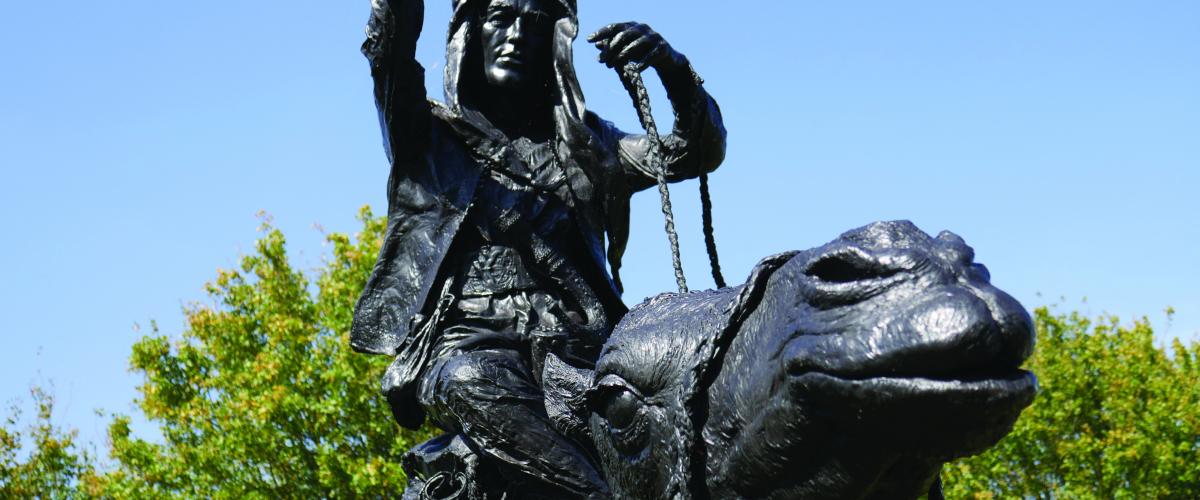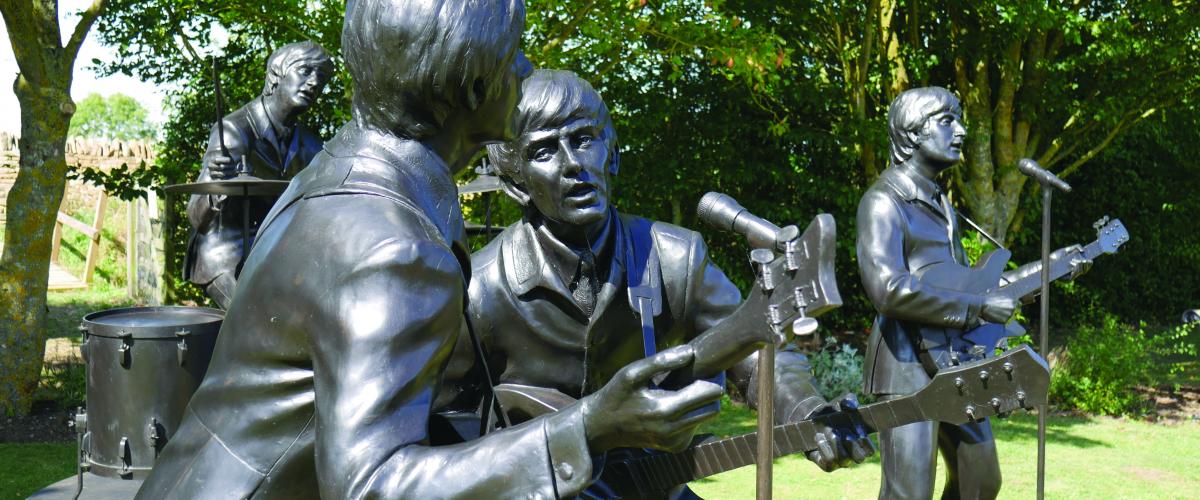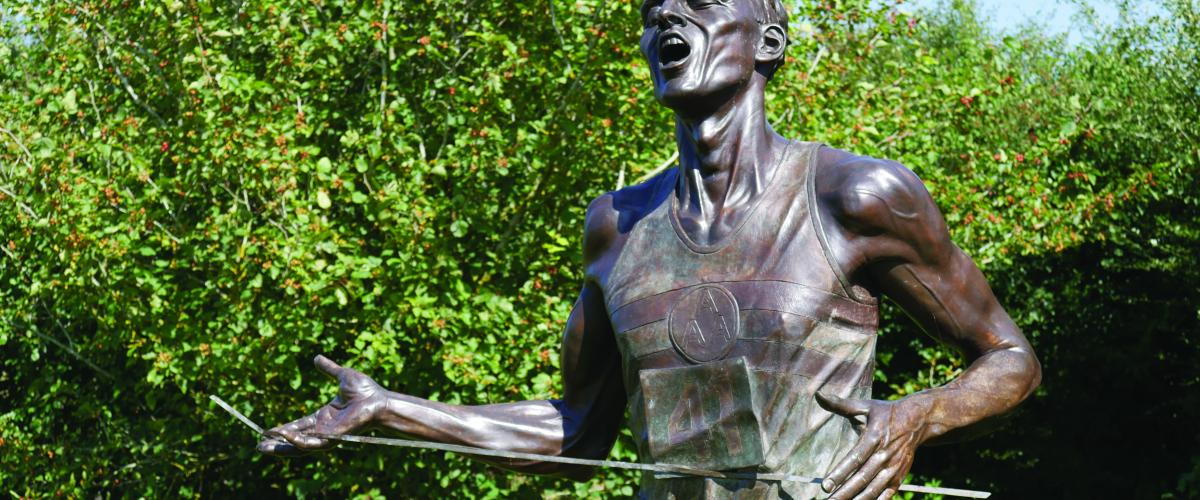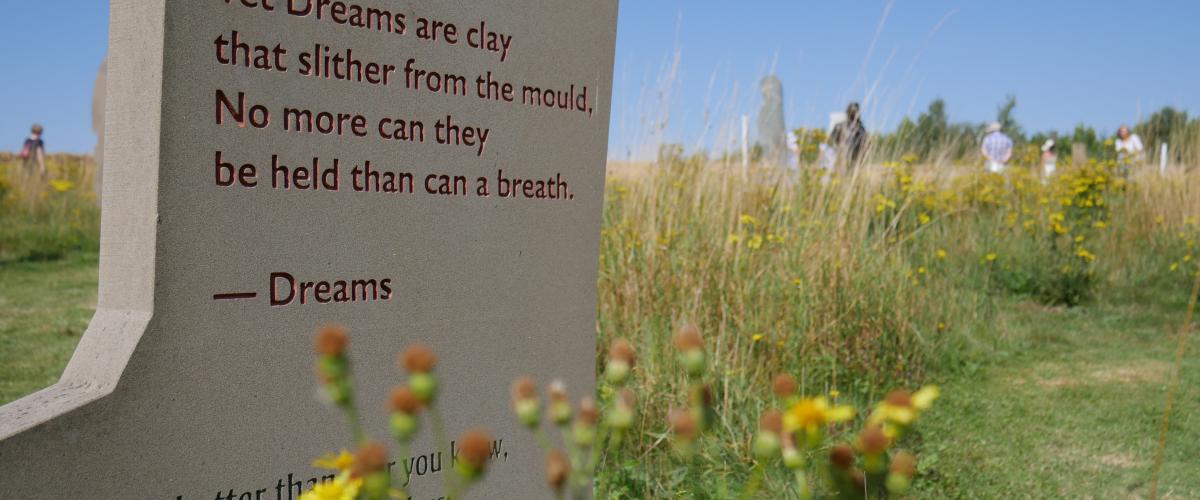 As well as the trail of handpicked muses, the Garden, which is managed by gardener Pete, has a handsome selection of specimen trees, a series of ponds, a yew maze, and a Japanese meditation garden. 
Also featuring the Shard Garden, a great creative gesture, containing a display of 44 large shards embedded in the ground with lines and verses of Felix's poems inscribed on each. Installed after his death, it was his last imaginative concept, his final commission.
Where it all began
The garden started life back in 1989 and over the ensuing 25 years gradually became populated with the extraordinary array of icons that grace it now, surrounded by the growing Heart of England Forest.
Following the purchase of the land, an army of craftspeople and labourers worked for 25 years to transform the seven-acre site into an amazing showcase for over 50 life-sized bronze sculptures created by leading artists and featuring some of the most prominent figures from throughout history.
"These gardens and the fantastic, life-sized sculptures are definitely worth making the trip to see. We have been several times and each year we see something we have missed. Surrounded by forest and fantastic walks, it is a MUST to visit."
– 908gillp, TripAdvisor review
When can I visit?
The private sculpture garden located in the village of Dorsington, near Stratford-upon-Avon, Warwickshire, is only open to visitors for a limited number of fundraising days each year and tickets must be booked in advance. In order to preserve the incredible statues that lie within it, we only allow access during our exclusive Forest events.
2024 dates 
Fundraising Open Days
Tickets must be booked in advance
Saturday 25th May 2024, 10am - 5pm
Saturday 29th June 2024, 10am - 5pm
Saturday 17th August 2024, 10am - 5pm
Admission by pre-purchased ticket. Tickets can be booked via our events web page. 
Fundraising Open Evening
Tickets must be booked in advance
Thursday 18th July 2024, 5pm - 9pm
Admission by pre-purchased ticket. Tickets can be booked via our events web page. 
EXCLUSIVE for Friends of the Forest
A evening event on Wednesday 5th June 2024, 5.30pm - 8.30pm exclusively for registered Friends of the Forest (2 adult tickets per Friendship). Tickets can be booked via our events web page.
Club/society visits 
If you are interested in organising a visit as a club or organisation then please email us for availability and cost.
Frequently Asked Questions
When is the garden open?
The garden is only open to the public for a few days each year. Keep an eye on our events web page to find out when these open days will be taking place. We also promote these events in our free e-newsletter and on our social media channels.
Are dogs allowed in the garden?
Dogs are welcome but must be kept on a lead and under control at all times. We also ask you to clear up after your dog, ensuring you have an ample supply of poo bags to hand.
Are there facilities on site?
Car parking for events in the garden is offered free of charge on the woodland meadow a short walk from the garden entrance. We do offer forward parking for those with restricted mobility.
While there are no fixed facilities in the garden, we do hire mobile toilets with handwashing facilities for our fundraising open events. We would also usually offer light refreshments, but please check the specific event listing to see what will be on offer.
Are there indoor areas available for shelter from sun or showers?
No. While there are many trees offering plenty of shade and shelter from light showers around the garden, there is no indoor space. Please come dressed for the weather on the day.

 
Can we bring a picnic to have in the garden?
While are unable to accommodate picnics in the garden itself, there is plenty of room in the woodland and meadow where parking takes place to set up on a blanket. You should of course take all leftovers and litter back home with you.
Is it wheelchair and pushchair friendly?
As a private garden, rather than a planned visitor attraction, there are no specific allowances for mobility aids. However, the garden is mainly mown grass footpaths and during the dry months we have successfully welcomed pushchairs, wheelchairs and mobility scooters around the garden.
Within the garden there are no gates, and any areas reached by steps do offer alternative grass path routes. Please be aware there are slightly raised granite edging stones (about ½ inch high) that need to be crossed from the entrance driveway onto the garden.
Can we take photographs of the sculpture during our visit?
We welcome photography for personal use, to capture your visit and share on your social media channels. Commercial photography or videography is however not permitted without prior agreement.
 
Can I pay on the gate?
Tickets must be purchased in advance of each event, we no longer take money for admission on the day. This allows us to regulate the number of visitors for everyone's enjoyment and benefit.
If you are unable to purchase tickets online, please contact us on 01789 778541 and we will be happy to assist. Ticket sales usual close 48 hours prior to any event, but please check event listing for details.
 
How can we purchase copies of the Garden of Heroes & Villains book?
We will usually have these for sale at any event in the garden. Copies can also be purchased from the charity, email us for details.