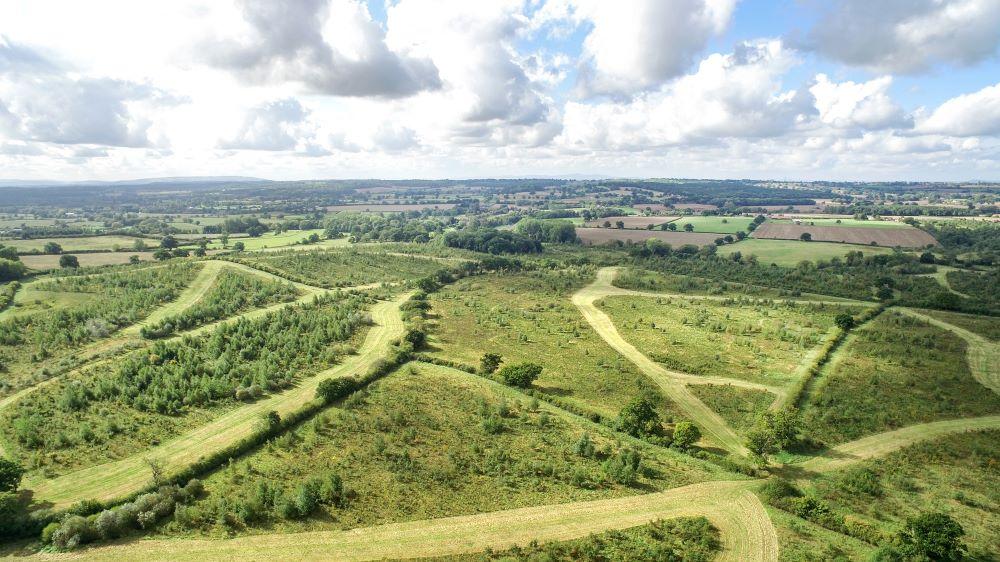 Supporting green recovery in the region
Allocated to projects that benefit nature, climate, and society, the Green Recovery Challenge Fund (GRCF) grant has enabled the Heart of England Forest to embark on a ground-breaking projects supporting green recovery in the region. Ed Leszczynski, GRCF Project Manager, outlines the exciting aims of the project.
A transformative project
My passion has been the natural environment for as long as I can remember, so I jumped at the chance to apply for the GRCF Project Manager role. Since my first walks with my Mum and Dad around the fields and lanes where I grew up as a child on the outskirts of Kidderminster, I knew from an early age I wanted to help look after the natural world. 

Having now worked as an ecologist/countryside manager for over 30 years, dealing with protected species and the management of habitats, I hope to use the range of skills I have acquired to help the Heart of England Forest achieve its aims with this project. 

This Green Recovery Challenge Fund, being delivered by the National Lottery Heritage Fund in partnership with Natural England and the Environment Agency, is transformative for the charity. It will enable us to make significant progress today whilst establishing long-term foundations to go and grow the Forest further tomorrow.
The aims of the project
The scale and scope of the project is huge, and it will bring environmental, social, and economic benefits, not only for the region, but also on a national scale. Due for completion in March 2022, the project includes:
The creation of nature recovery networks for wildlife
Establishing and developing a social enterprise tree nursery that will grow 2.5 million trees annually, in order to meet tree planting targets 
Enhancement of nature-rich trails in the Forest 
The creation, support, and training of 12 new members of staff
What has been achieved so far?
Work on this project is already underway, in fact we sprang into action behind the scenes the day we got the green light. 
Here are some of the highlights of what has been achieved so far:
Installed livestock fencing and water supplies ready to introduce new livestock for conservation grazing around the Forest
Carried out a winter bird survey in the Forest at Sheriffs Lench in which several Red List Birds of Conservation Concern were recorded including skylark, fieldfare, starling, linnet, redwing and song thrush
Recruited and welcomed exciting new talent to the charity including nine interns and an Assistant Tree Nursery Manager
Upcoming project milestones
Here are some of the key milestones we will deliver between June and October:
Route improvement – carry out access improvement works to waymarked routes and create a new permissive walking route at College Wood
Wildlife and biodiversity monitoring – continue our important work monitoring and recording wildlife and biodiversity in the Forest by carrying out breeding bird surveys in five areas of the Forest – Sheriffs Lench, Binton, Bearley, Oak Wood and Newnham – along with various botanical surveys
Training – deliver a training programme for our staff and volunteers that will support them to carry out wildlife monitoring, including bee walks, butterfly transects, tree and hedgerow plant identification
Virtual events – develop and begin to deliver a virtual events programme to bring the Forest to people at home
Tree nursery – start work on the new tree nursery including installing utilities 
Woodland rides – enhance the habitat on new woodland rides by sowing a wildflower grass mix
Grassland enhancement – carry out extensive grassland enhancement work at Sheriffs Lench and Newnham by overseeding with wildflower seed
Livestock grazing – put livestock to graze at Newnham and Oak Wood.
"As a born and bred Midlander I want to be able to enthuse everyone to enjoy and access the fantastic wildlife on our doorstep and be part of Heart of England Forest's ambition to create a new forest open to all."
Ed Leszczynski, GRCF Project Manager
Growing the Forest
This project will enhance and support ongoing work to grow the Forest which is made possible by our generous supporters, who give their time and money to help with this important work. At a time when the need for urgent action to mitigate climate change and reverse the decline in biodiversity has never been greater, we are hugely excited about what this funding will enable us to achieve.