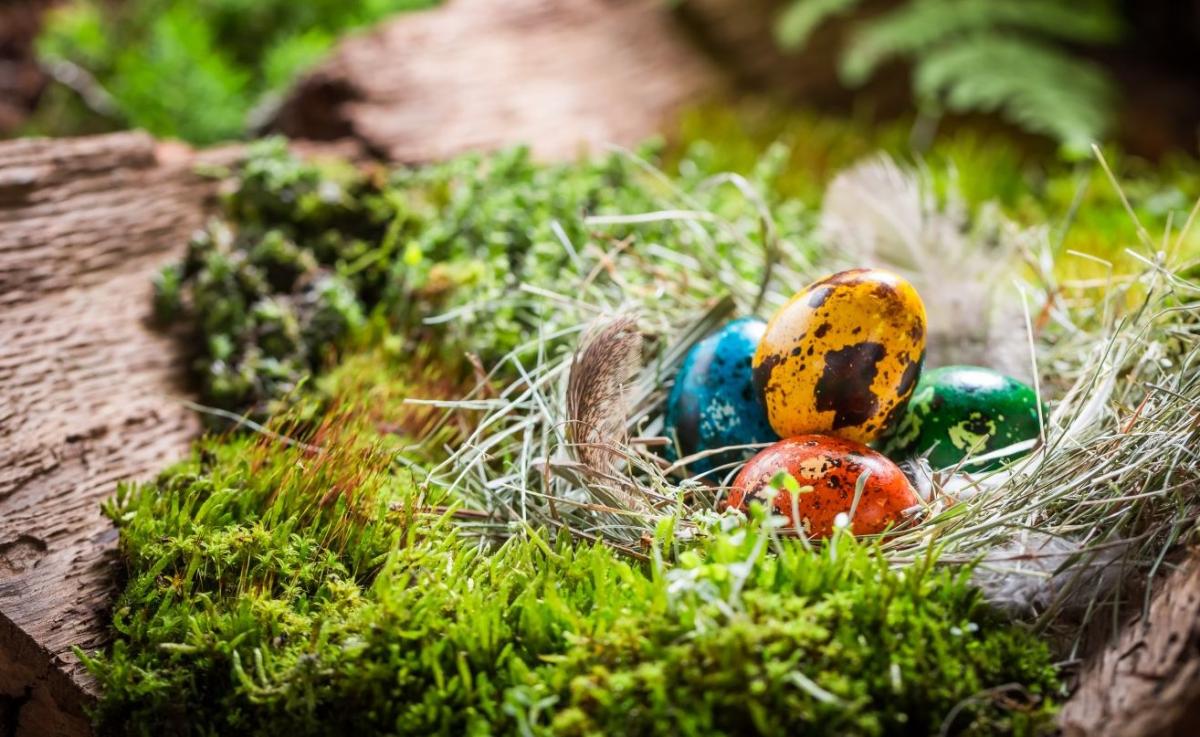 10 Easter nature activities to get kids outdoors
From butterfly spotting to planting bulbs and making alternative Easter eggs, these fun activities are a great way for the whole family to get outdoors and connnected to nature during the school holidays.
Plant a bulb or seed
Planting bulbs or seeds and watching them grow into beautiful blooms is one of the joys of spring. They attract important pollinators such as butterflies, bees and other insects too. Begonias, marigolds, sunflowers, petunias and sweet pea can all be planted in April.
Alternative Easter eggs
For a Egg-cellant Easter activity idea, experiment by dying eggs using natural dyes. In Britain it was traditional to make "pace eggs," dyed with onion skins wrapped over leaves to create golden eggs with foliage patterns.
Instructions:
First, place an old cloth, 20cms x 20cms on the work surface
Lay around 6 layers of onion skins on top of the cloth
Arrange leaves or flowers on top of the onion skins – this will create an interesting pattern on the egg. We found that daisies worked best, the primroses transferred a yellow colouration onto the egg but the effect was not as clear.
Now lay the egg on top, before wrapping the cloth and onion skins firmly around the egg. Secure with an elastic band.
Place in boiling for around 30 minutes, with a separate pan for each egg.
Finally remove the egg from the water and allow it to cool, before revealing your design.
Make a bird feeder
Encourage children to come up with their own design for a bird feeder to make and fill with goodies to attract the birds. Feeders can be made from an old milk or juice carton or even Lego. If you do not have bird seed then cooked pasta or rice, boiled potatoes, cheese, uncooked and unsalted bacon rind, raisins, sultanas and soft fruits are all suitable. Check the RSPB website. 
Obstacle course
Bring adventure into your back yard by building an obstacle course for your push bike in your back garden. We used some old cupboard doors & bricks to make ramps and see-saws, cones or plant pots to weave in and out of, and some old bits of skirting board to make bumps to ride over. See what you have in your shed or garage and come up with your own designs.
Health & safety note: Ensure the course is appropriate to the age and skill level of your child. Let your children build the course to make sure they are comfortable with the obstacles. Make sure they are robust before your child tries the course for the first time and of course make sure they are wearing a helmet.
 
Wildflower spotting
Springtime wildflowers are blooming in our woodlands and our gardens. Whilst taking your daily exercise, see what beautiful spring blooms you can spot. Primroses, forget-me-nots, wood anemone, lesser celandine, common dog violets and cow parsley are already attracting bees and butterflies. You may also spot the grape-like buds of bluebells.
 
This great spotter sheet from our friends at Woodland Trust will help you with your quest
Make a bug hotel
Improve your garden as a habitat for wildlife during the Easter holidays by making a bug hotel. All you need is an empty plastic bottle and some old newspaper!
Use an empty drinks or milk bottle and carefully cut the top off. Cut long strips of newspaper that are a few millimetres shorter than the length of the bottle. Tightly roll the strips into tubes, ensuring there is a hole in the centre of them, and pack them tightly into the bottle. Place it in a warm spot in the garden and see who comes to stay!
Talk about the creatures that might live in the bug hotel: ladybirds, woodlice, earwigs, and the other animals that might benefit through the food chain – for example the birds that can eat the bugs to feed their young.
 
Petal perfume
Making perfume out of fallen blossom and flower petals is a fantastic way of getting children to notice what is growing in their garden and use their senses to explore.
First collect the flower petals and put them in a glass jar. Make sure you set the ground rules first – what flowers are they allowed to pick, or can they just collect the blossom from the ground?

Then pour on some just boiled water and leave your perfume to seep for a couple of hours.

Finally decorate the jar to make it look beautiful.
Natural rainbows
Can you make a rainbow using natural things you can find in your garden like flower petals, colourful bark or pebbles, sticks and leaves? You could make a giant rainbow on your lawn, or on a rainy day stick your natural finds on paper to display in your window. Make sure you set the ground rules first – what flowers & leaves are they allowed to pick, or can they just collect fallen petals from the ground?
Butterfly spotting
Butterflies come out to play on sunny days – the warmer the weather the more you will see in your back garden or local green space as they visit flowers to get the food they need for energy. See how many different types of butterfly you can spot in your back garden or during your walks. Use this this fantastic spotter sheet from our friends at The Woodland Trust to ID them.
If you are very careful and gentle you may be able to temporarily catch the butterflies to get a closer look, but make sure an adult helps to make sure you do not damage their delicate wings.
Patterns in nature
Today see what patterns you can find in your back garden or local green space and collect lots of different imprints with play dough, plasticine or clay. Many patterns occur in nature: the arrangement of leaves and petals on plants, or textural patterns on bark and rocks. Others you find will be man-made.
You could use language to describe the patterns, textures and shapes you see, sort the patterns into groups based on their properties, or play a game to see if you can match the imprinted patterns with the objects that made them.