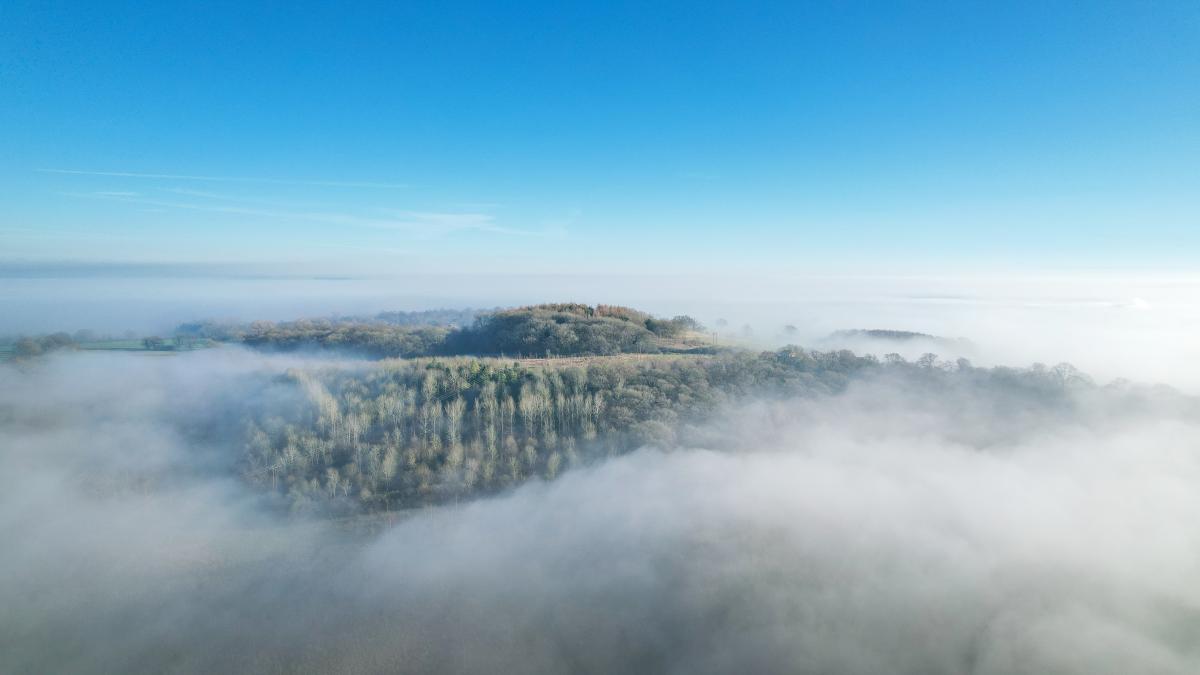 Another successful winter season in the Forest
Another busy and successful tree planting season in the Forest has finished, during which over 100,000 trees were planted, new land was acquired, conservation grazing continued, and essential habitat management was carried out.
An ever-growing Forest 
This tree planting season, we expanded the woodland cover in the Forest by planting an outstanding 127,748 trees across eight sites, creating a total of 233 acres of new woodland over the winter. In total we have now planted 2,148,171 trees since the charity started and created 4,686 acres of new woodland amongst the 7,000 acres of mixed Forest habitat. 
 
We would like to say a huge thank you to our forestry team and volunteers who worked incredibly hard to meet these planting targets through some challenging weather and ground conditions, from the beginning of November to mid-March.
Senior Forest Ranger, Ian, shares some insights into the forestry team's work over the winter period:  
"New woodland creation dominates the months of November through to March. This year we planted around 20,000 trees spanning two fields near Coxmere Wood. A team of 13 staff planted this in just over a month, in what was mostly pleasant planting conditions, however our progress was hampered a little by a period of sharp frosts. Luckily, the ground didn't get too hard, so the team was able to keep going. Bumping in stakes is a great way to keep warm in minus temperatures!  
After Christmas and into the New Year my team were joined by the Spernal team to plant 28,000 trees on our land at Dodwell. This new area of woodland creation can be viewed by following the public and permissive footpaths that form the Luddington loop. The walk has a stunning veteran oak in the corner of one of the fields, plus interesting features on the site, such as the well from which the place takes its name and a thriving rabbit colony. Over the winter season in the new plantation, we had some interesting bird sightings, including barn owl, kestrel, grey heron, and woodcock, so well worth a visit. 
The planting season has been a gruelling one with lots of long days, but the end result should be a variety of healthy establishing woodlands each with their own character due to the way we plan and plant. All the trees need now is some warmth to get them growing and a mild spring with plenty of overnight rain to keep them watered as they set roots. Fingers crossed!" 
The right tree in the right place
Effective conservation action is not just about planting as many trees as possible, but about proper planning and planting sustainably to create woodland habitats that will survive and thrive in the long term. Read about how we plant trees sustainably.
Agroforestry and conservation grazing 
During January and February we worked in collaboration with Vale Landscape Heritage Trust to plant another line of 36 fruit trees within our agroforestry area at Sheriffs Lench. Our silvoarable field is a plot of land within the Forest where we are planting arable crops and fruit trees together. 
 
Whilst you will be familiar with our woodland creation ambitions and tree planting goals, it may come as a surprise that the Forest also has a working farm. With close to 200 cattle, including a herd of pedigree longhorns, and a smaller flock of traditional breeds of sheep, the farm is an integral part of the charity, running hand in hand with forestry. 
 
Listen to Biodiversity Officer (Grassland), Emma, explaining more about the importance of grassland management and conservation grazing in the Forest below:
Winter forest and habitat management  
Although tree planting dominates the winter season, managing the Forest is as important as creating it, so various management work was also completed including selective thinning (which is vitally important for healthy and sustainable woodlands), coppicing, habitat restoration, and footpath maintenance. 
 
We have an annual programme of coppicing here in the Forest. The first coppice cut of hazel is important to establish the many stems needed for producing a viable production of coppice material to use in the Forest. It also gives age diversity within the woodlands, which is important in providing habitat for a wide range of wildlife.  
 
Craig our TCAF Project Delivery Officer explains more: 
Help the Forest grow 
It is vital that we manage and conserve the land we have for people and wildlife for generations to come. If you would like to be a part of our continued growth and conservation efforts in the coming seasons, you can support our work  creating a Forest that will be here for life by donating, dedicating a tree, or  leaving a legacy that will help the planet for years to come.