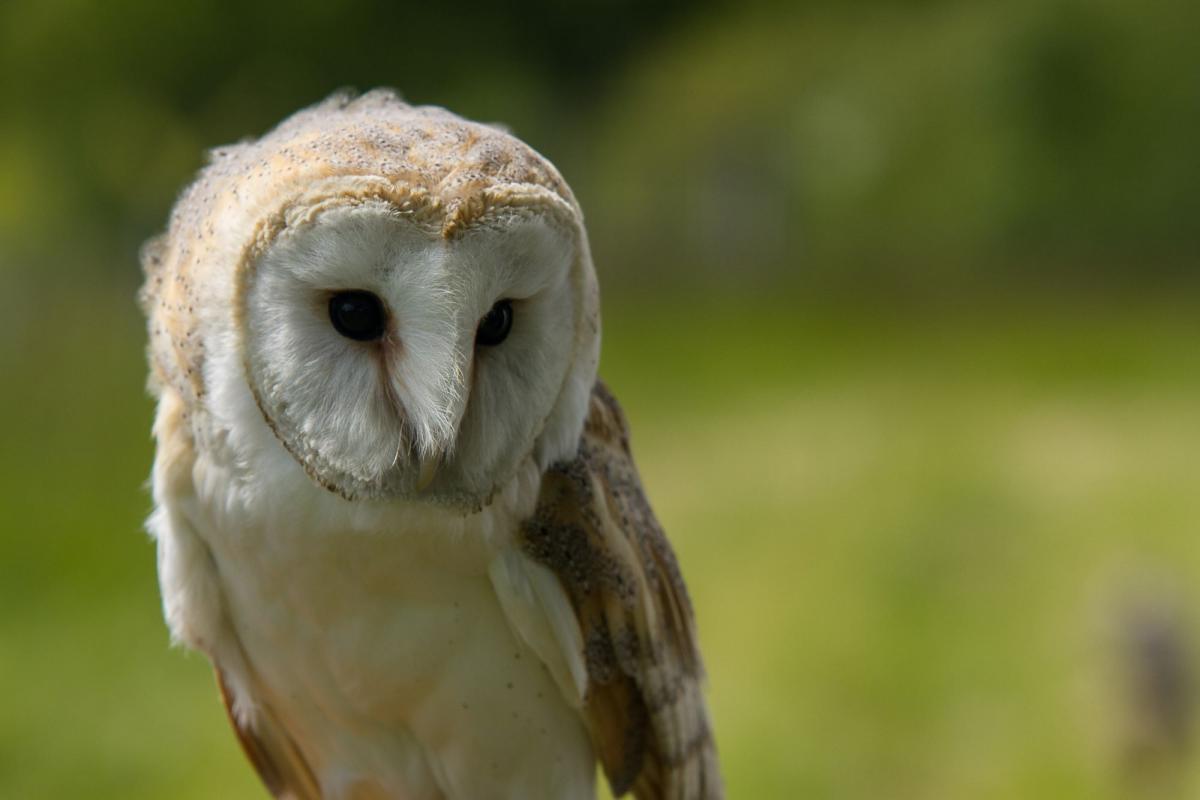 How birds of prey are faring in the Forest
Over the last decade 16 bird of prey species have been seen in the Heart of England Forest. But what is a bird of prey, and how are they faring in the Forest? The results of our 2021 report are in.
What is a bird of prey?
Birds of prey are regularly thought of as those with hooked bills, sharp talons, and a diet of either fish or mammals. This includes owls, hawks, eagles, and falcons in the UK, although this definition is much vaguer than it seems at first.
Some of these families are completely unrelated to each other, such as the falcons, which are more closely related to parrots than hawks. Other birds of prey, like the honey buzzard, can have the entirety of their diet consist of insects! So, 'bird of prey' is very much a title of convenience.
Bird of prey monitoring in the Forest 
Since 2012, most of the bird of prey monitoring in the Forest has been undertaken by the South Warwickshire Barn Owl Group, a small team of volunteers who  are licenced to ring adult and young birds of prey when nesting. Ringing alongside nest box checks allows for the location, health, and breeding activity of each bird to be carefully monitored through its life, creating excellent long-term data.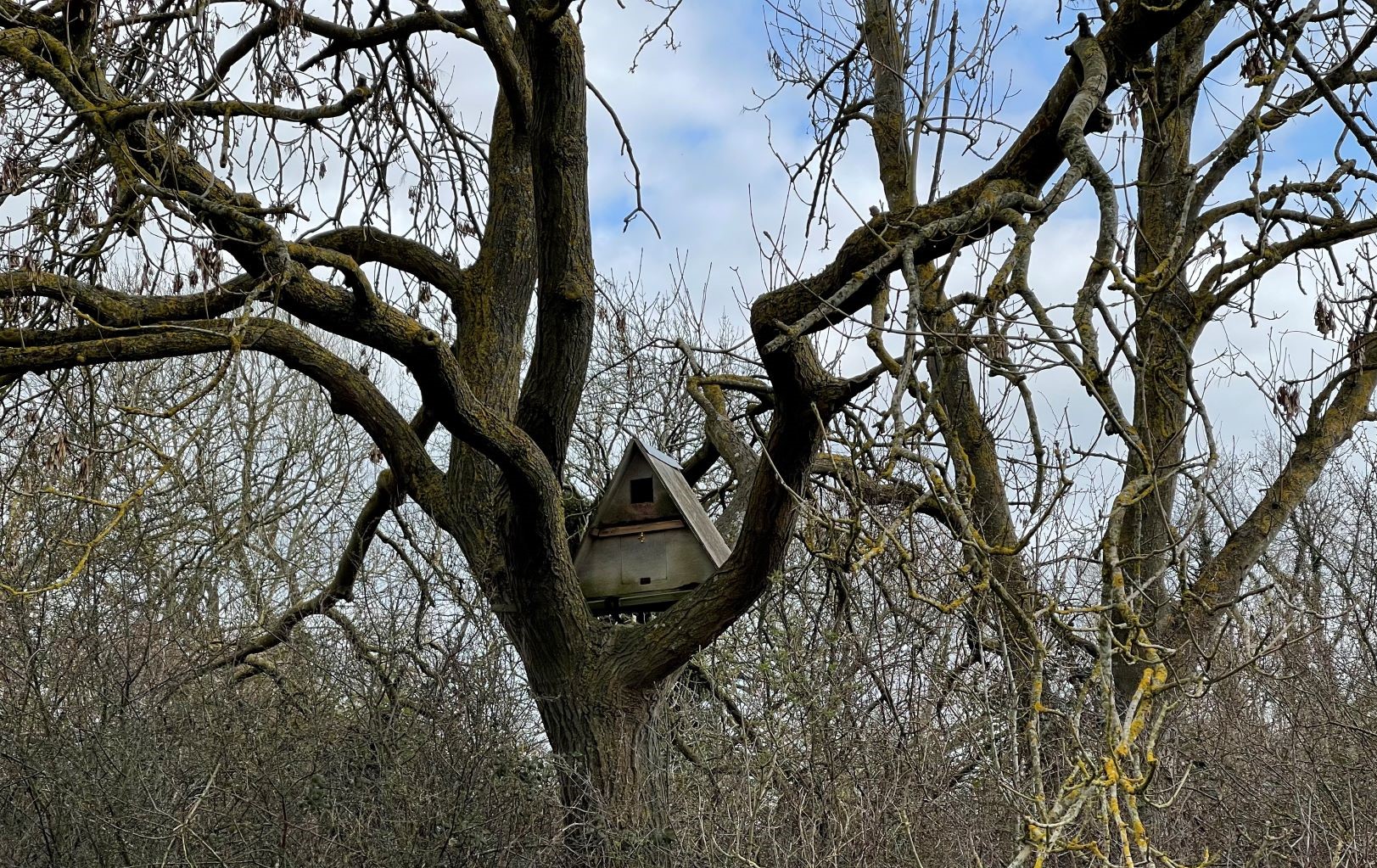 The group use different types of boxes for barn owls, tawny owls, little owls, and kestrels, with visitors most likely to see barn owl boxes (large, triangular with a hole - pictured above) and kestrel boxes (smaller, open-fronted cuboids) while walking around the woodlands. Over the last decade, they have installed 130 bird of prey boxes in the Heart of England Forest.
Barn owls
Barn owls had a great breeding season in the Forest last year, with 15 breeding pairs producing a total of 51 chicks to an age suitable for ringing. In addition, one non-breeding pair were found and two single individuals. This made 2021 the second-best year since 2014, only beaten by the mammoth 20 breeding pairs and 79 chicks ringed in 2019. Some years, the Forest has been the most productive place in the county for barn owls. 
Barn owls are particularly susceptible to poor weather and fluctuations in the vole population, as happened when the vole numbers crashed in 2020 and only 10 chicks were ringed. Vole numbers are still building so, weather-permitting, 2022 may be an even better year for breeding barn owls in the Forest than 2021.
They can be seen all over the Forest in young plantations and along our wide grassland rides – anywhere with plenty of space to hunt, mostly in the early evening but occasionally in the daytime also, especially in the winter.
Kestrels
Last year, we had seven breeding pairs of kestrels in the Forest with 20 chicks ringed. This is about average for the species, with breeding pairs fluctuating between four and 11 and chicks ringed from 12 to 41. Kestrels use similar habitat to barn owls, so may also be seen across the Forest. Look out for their characteristic hovering while hunting, which distinguishes them from all other British birds of prey.
Tawny and little owls
2021 was the best year yet for tawny owls across the Forest, with 13 breeding pairs monitored and 16 pairs ringed, a great tally for this Amber List species of conservation concern. Their recent growth in numbers may be due to our older areas of planting now reaching a height suitable for tawny owls to use, providing more habitat for the species and allowing more birds to be present. 
They are far more easily heard than seen, their calls being the characteristic 'twit-twoo' owl call. Little owls (pictured above) are rarer throughout the Forest, with one breeding pair monitored last year at Dorsington, although they are also known to be around Middle Spernal and Binton. They can be found hunting across insect-rich pasture with many scattered trees, as well as old orchards.
Other birds of prey in the Forest
If you have spent time in our woodlands, you will know that these are far from the only birds of prey we have. Buzzards and sparrowhawks are common throughout the Forest, while the red kite is becoming a far more frequent sight floating overhead and scanning for carcasses to scavenge. As well as these, peregrine falcons are also increasing in numbers after a large population crash 60 years ago,  and are most often seen high over the Forest in autumn and winter, searching for prey.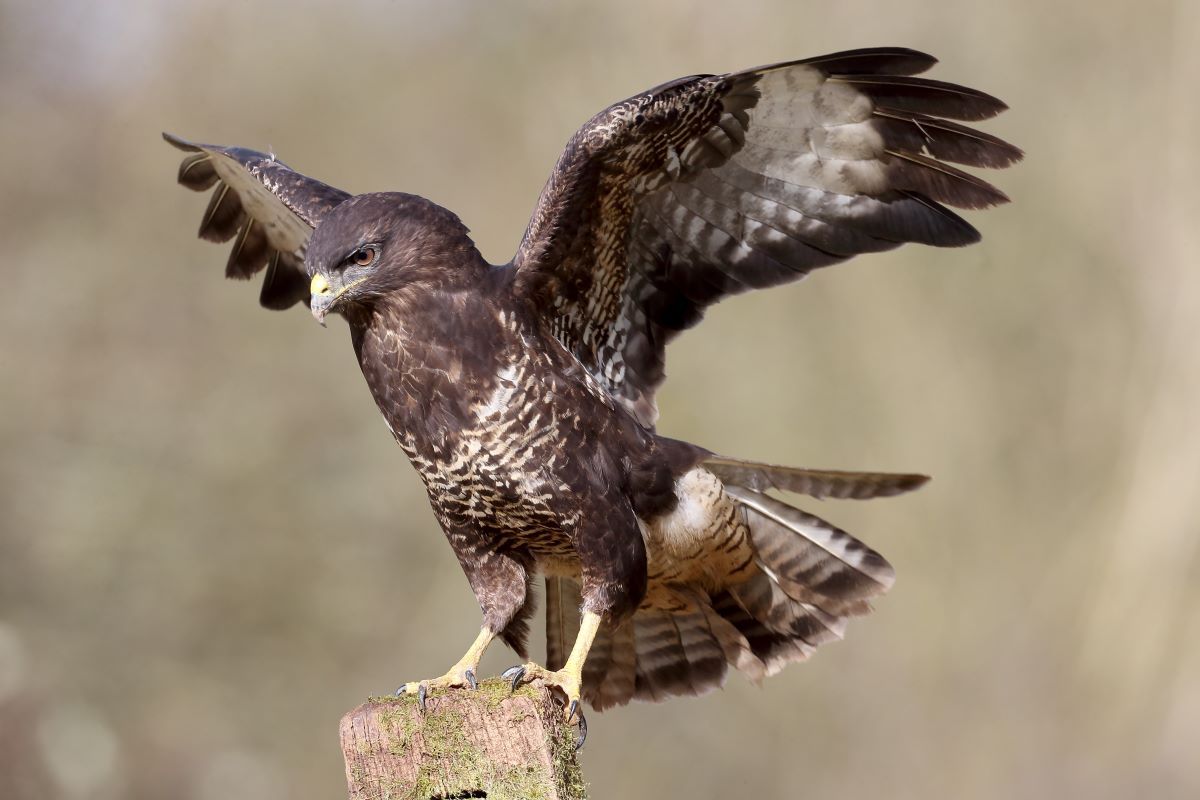 Less common but seen at least once every two years are the goshawk, short-eared owl, merlin, and hobby. The Forest's mix of quiet ancient woodland and vast new areas of broadleaf woodland, especially around Spernal, are ideal for goshawk, while merlin – our smallest falcon – are occasionally seen hunting finches across the areas of organic arable we manage.
The hobby is another falcon known for catching dragonflies and can be separated from our other species by its distinctive 'red trousers'. They have been seen all over the Forest, but most often near wetlands. Short-eared owls migrate to the Dorsington area each winter to hunt through the youngest plantations there, with at least four present this winter.
Even rarer birds of prey seen in the Forest include osprey, honey buzzard, marsh harrier and hen harrier. These birds have been seen very rarely migrating overhead rather than stopping in the Forest, although hen harrier has briefly hunted through Jocelyn's Rest at Dorsington.
Species to look out for in the future
Despite the sizeable total of bird of prey species seen in the Heart of England Forest, there are still others which may be seen in the future. The highly elusive long-eared owl is one of the least understood breeding species of bird in the UK and is yet to be seen, and their excellent camouflage would make this a huge challenge even if present! 
White-tailed eagles may also be seen migrating over the Forest; individuals have been seen very close by locally, migrating across the country from a reintroduction on the Isle of Wight, so keep your eyes open for these giant birds overhead in the future!
Support our work
Would you like to get involved with the valuable work we do here in the Heart of England Forest? Sign up for volunteering news to find out about our wildlife surveys and Forest habitat maintenance sessions.