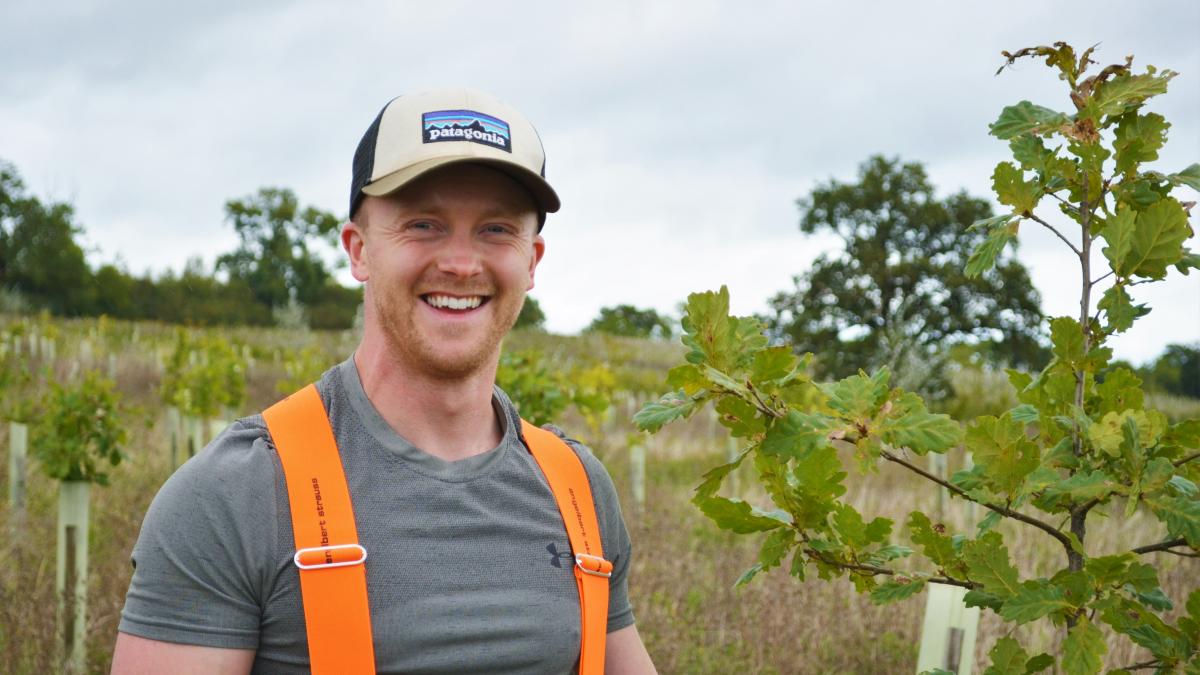 Meet the team: Forest Ranger Aaron
Creating and conserving England's largest new native broadleaf woodland would not be possible without our dedicated and hardworking team. Aaron joined the charity as a Forestry Intern and is now one of our Forest Rangers.
 
Joined the charity
October 2018 
When did your interest in forestry begin?
My first proper exposure to woodlands was during a school trip to Lickey Hills Country Park – my childhood home was in a suburban area of Birmingham, so there was not much nature around within a safe walking distance. That was where I met my first forester who took us on a guided walk around the Country Park and told us wonderous stories about tree folklore and wildlife.
What is your role in the charity?
Having joined the charity three years ago as one of the second batch of forestry interns to be recruited, I have recently been promoted from Assistant Ranger to Forest Ranger, so I have risen through the ranks!
During my 12 month internship, I had the opportunity to coordinate the charity's corporate and regular volunteers. This enabled me to gain key skills in how to manage tree planting teams and lead general forest maintenance tasks such as coppicing and thinning. 
I then successfully applied to become an Assistant Forest Ranger, assisting the Forest Ranger in Dorsington, and later the Forest Ranger presiding over mixed woodland habitats in and around Spernal in Warwickshire. 
During this time, I furthered my core skills and knowledge in forestry by doing internal and external training, before acquiring my current position supervising a small team that looks after the charity's land across the idyllic area of Honeybourne, in Worcestershire.  
How did your internship with us help you to further your career in forestry?
The internship was really a door-opener into a new life for me. It gave me the opportunity to enter a new sector and move to the countryside, whilst being paid to learn and develop the essential skills needed to become a Forest Ranger. 
What do you like most about working at the charity?
I love being part of an ever-growing charity that is contributing to a greener, healthier world through maintaining the woodlands of today and growing the forest of tomorrow. 
What advice would you give anyone looking for a career in forestry?
Take any and every opportunity, no matter how small it may seem, to grow your knowledge of this exciting industry! Read books about trees, take yourself on tree identification walks, watch or listen to talks about trees, and volunteer at your nearest woodland or wildlife reserve if you can. And if all that sounds great, maybe consider doing a course in forestry, volunteer at the Heart of England Forest, or join us at our Forest events.
What do you like to do in your spare time?
I like spending most of my time outside. When I am not tending to my flock of bantam chickens and cat Mila, I love hiking, kayaking, weight-lifting, and training with the Army Reserves.
 
Interested in a career in Forestry?
If you are interested in turning your passion for nature and the great outdoors into a career in forestry, then find out more about our internship programme and keep an eye on our jobs and careers web page for opportunities to join our team.