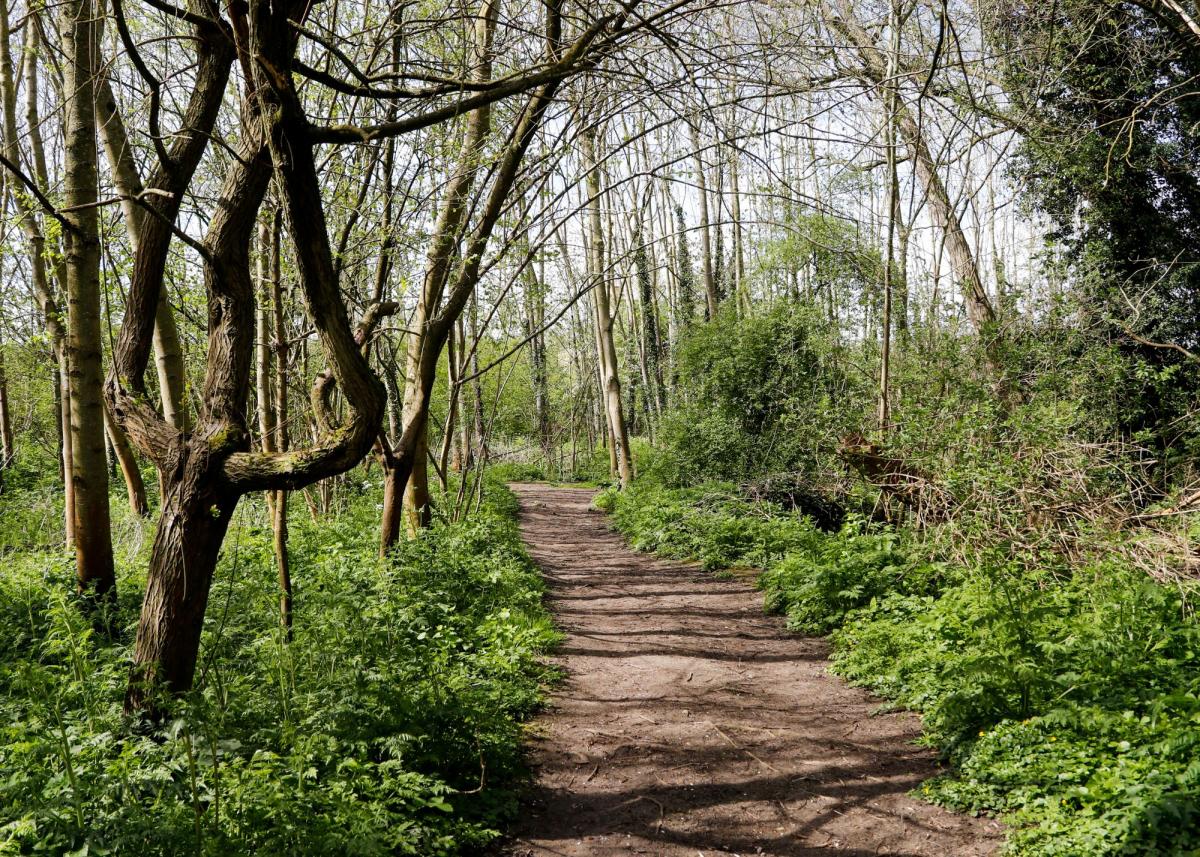 More reasons to visit the Forest this National Walking Month
One of the charity's key aims is to provide a haven for people to visit which benefits their health and happiness. The introduction of new audio trails and an extended Forest walk, open in time for National Walking Month, provide more opportunities for people to connect with nature and boost their wellbeing. 
Extended walk at College Wood 
As part of the Green Recovery Challenge Fund (GRCF) project, we have extended our waymarked trail through College Wood, near the village of Studley, enabling visitors to go on a longer walk taking in more of the Forest.
The improved two mile route will now include access around Alders Pond and through the mature woodland of Studley Thorns, as well as into two additional small woodland creation plantations. A new permissive footpath across our recently purchased land at Spernal Hall Farm will offer walkers a convenient link to Haydon Way Wood using the Arden Way public footpath which leads on to Coughton.
Improvement works carried out
As part of the work to create this walk, we undertook wetland habitat improvement works within Studley Thorns. In 2021, we desilted the pond, which involved removing a layer of organic matter that had been building up over a long period of time. The pond also had no outflow due to a blockage in a pipe. Replacing this pipe would have been very expensive, but we found an alternative way to increase the flow into and out of the pond, by connecting it to an adjacent drainage ditch. 
This should improve the water quality and flow through the pond, as well as removing polluting sediments faster, and improving the wetland habitat for amphibians and aquatic vegetation.
Tree work was conducted within Studley Thorns for safety reasons, enabling us to offer public access and to benefit the wetland and woodland habitats.
 
Seasonal wildlife, flora, and fauna to look out for 
There is much to see on the College Wood walk throughout the year. Sam Macvie, from our biodiversity team, shares his highlights.
Birds on and around the Alders Pond – Mute swan bred here last year, mallard breed here yearly too, and grey herons and cormorants are frequent visitors. The hedgerow between the Alders Pond and College Wood is where I heard the Forest's first Cetti's Warbler in 2021. Listen out for its explosively loud 'chip, chop, cettia cettia cettia!' song when walking here in springtime
 
Butterflies – Look out for the distinctive orange-tip butterfly, although despite their name, only the male has orange-tipped wings while the female has grey/black tips. Small heath butterfly numbers have greatly declined in the last 40 years, but there is a strong colony present in College Wood
 
Trees – The trees doing well here reflect how wet the ground can get. There are many mature alders and massive alder regeneration in areas. Alders are home to several insects, lichens and fungi, and their roots make great otter nests. Planted and self-seeded willows of multiple species are also growing very well here. 
For more about College Wood, including location information and detailed walk steps, visit the walks in the Forest section of our website.
First woodland audio trails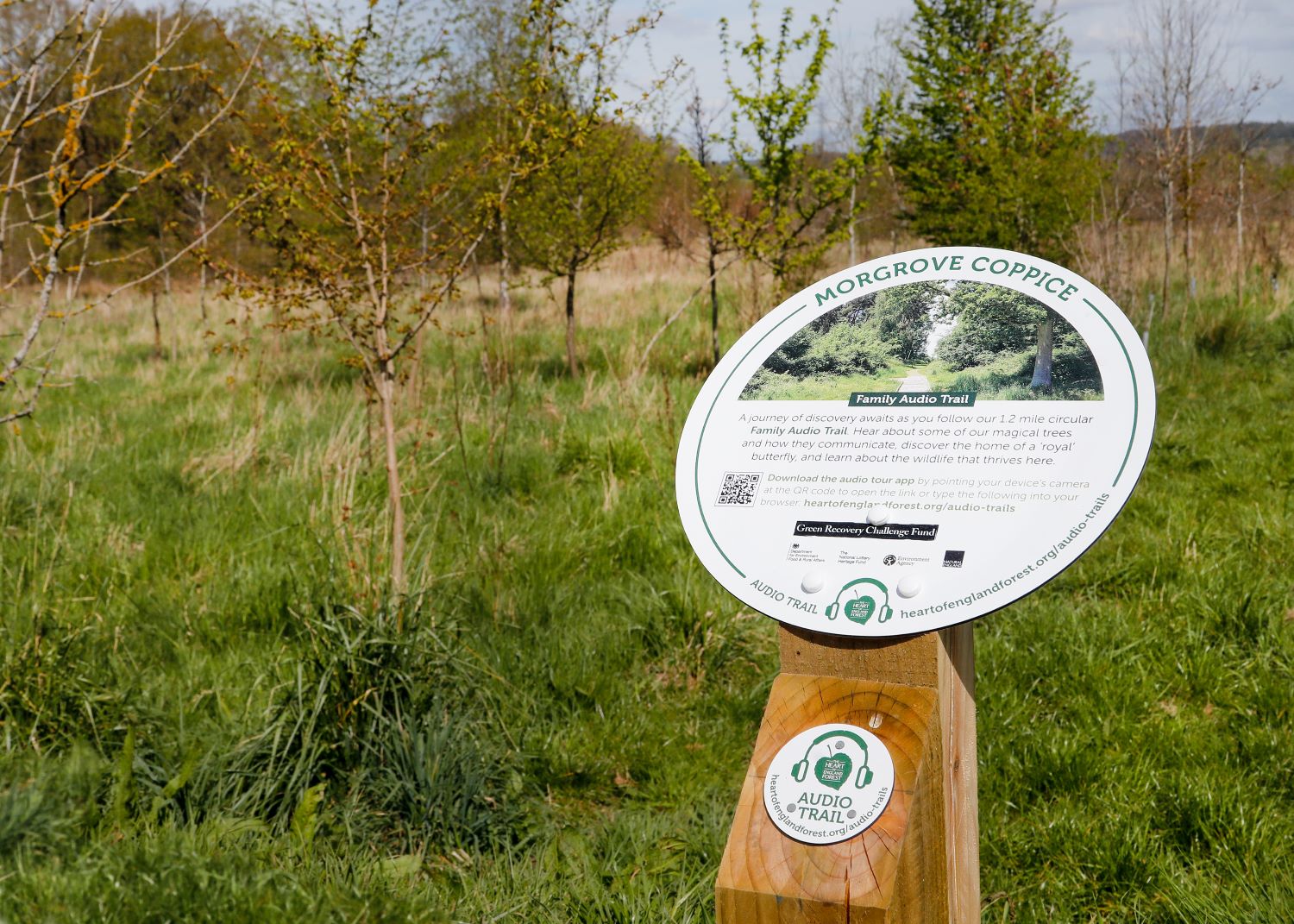 We are delighted to launch the first audio trails in the Forest, also funded by the Green Recovery Challenge Fund (GRCF) project.
The audio trails provide an enhanced, interactive experience for visitors, who can hear about the habitats, wildlife, and history of the Forest as they walk in the woodlands. 
Visitors can download the GPS-assisted app and choose from three themed audio trails positioned along two different popular walking routes through the Forest. 
Along the four mile Founder's Trail starting in Dorothy's Wood car park either learn about the mosaic of habitats in the Forest and the wildlife that lives there or follow the Forest Story and find out why the Heart of England Forest came to be, about its founder Felix Dennis, and the important work this ambitious charity is undertaking.
At Morgrove Coppice, home of our accessible trail, the audio tour - designed to capture the interest of the whole family - takes you along a route of just over a mile and will engage young minds in the surrounding young and mature woodland.