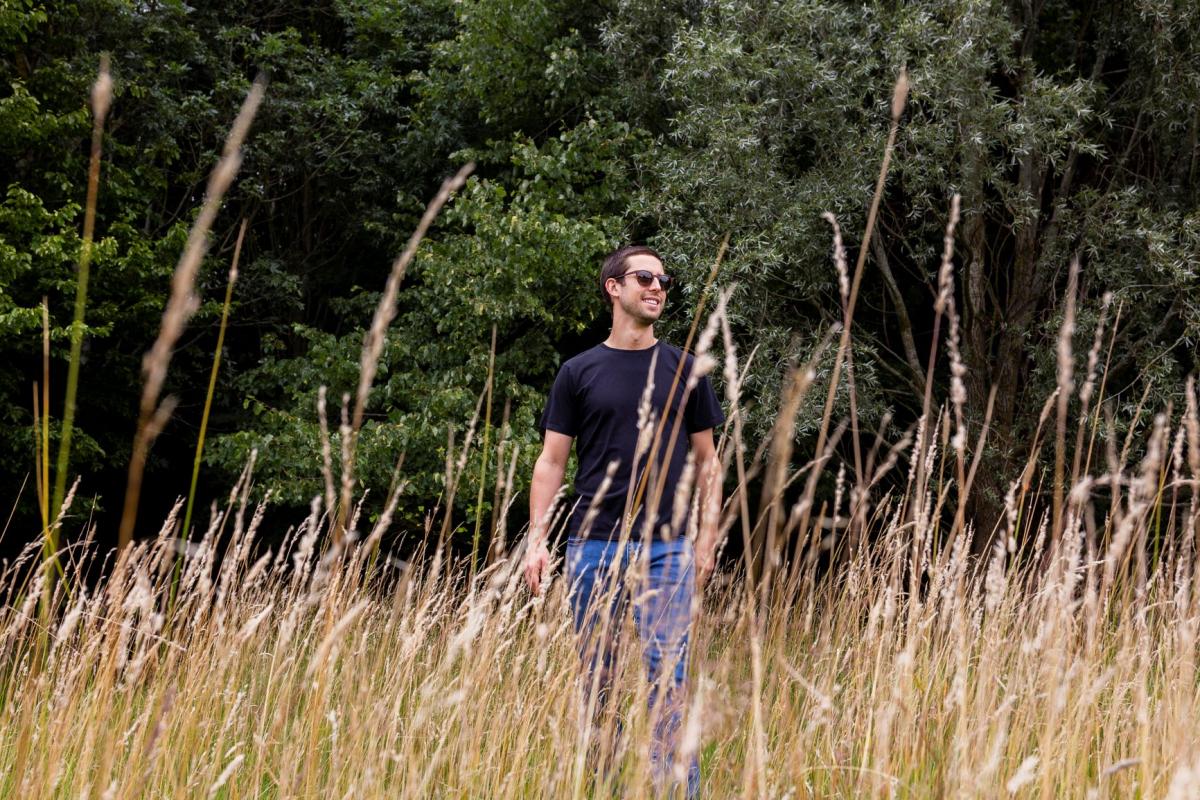 Q&A with our Forest Ambassador
Warwickshire-based racing car driver Alexander Sims, who competes in the all-electric ABB FIA Formula E World Championship, has been a Forest Ambassador since January 2021. Find out more about his background and his reasons for working with the Heart of England Forest in our 10-minute Q&A session. 
Q. At what age did you start taking an interest in the environment/natural world?
A. I have always had a strong interest in the natural world, which I have maintained in adulthood through walking holidays. As I became more aware of the negative impacts that humans have on the environment, this interest developed into wanting to do more to actively care for and preserve the natural world around us. Certainly, over the last ten years, I have developed a strong desire to make a bigger positive impact. 
Q. Can you tell us a little bit about your background and what triggered your sustainability interests? 
A. I started karting when I was ten, which began as a fun thing to do with my dad. I quickly got into it and started winning races and then national titles, working my way up through the ranks. I then moved into single-seater cars and, in 2008, won the McLaren Autosport BRDC Young Driver of The Year Award, which is given to young drivers showing promise. After racing in single-seater series, I moved into sportscar racing, competing with McLaren and BMW at events such as the Le Mans 24 Hours and the IMSA WeatherTech SportsCar Championship in the USA.
I travel a lot for my work, and in 2012 I was doing a lot of driving to UK racetracks and airports. I went to the petrol pump for the third time in one week and realised that this could not go on, so I started looking into the feasibility of an electric car. There were not many on the market at that point, but I was lucky enough to be able to work out a way of getting a Tesla Roadster and I have been driving electric vehicles as my daily drivers since. This awareness has also led me to make everyday choices that make my lifestyle more sustainable. These include avoiding single use plastics wherever possible, drinking from a reusable water bottle, and using a bamboo toothbrush. 
Q. What is Formula E and how did you get into it?
A. The ABB FIA Formula E World Championship is an all-electric single-seater race series that competes around the world, often in city-centre locations, with the aim of promoting electric mobility and sustainable energy solutions. It is the first sport to have a net zero carbon footprint since inception, which was achieved through investment in certified climate-protection projects to offset emissions.
The series started in 2014, but at that point it was not possible to complete a whole race with one battery, so drivers needed to swap cars mid-race. I had tested the cars and helped in their development, but did not actually compete until BMW joined the series in 2018. At that point, Formula E had really started to gain traction, with a growing supporter base amongst the racing and wider community. Battery technology had also developed to the degree that you could complete the race in one car. 
A couple of seasons on, I now drive for Mahindra Racing in the #29 M7Electro and love competing in the series with all its unique complexities, while continuing to raise awareness of sustainability issues. Mahindra Racing was the first Formula E team to receive the highest Three-Star Accreditation in sustainability, awarded by the Federation Internationale de l'Automobile (FIA), motorsport's governing body. Since then, the team has also been certified as having a net zero carbon footprint since inception. 
Formula E also has a really important role in raising awareness. It is showing that it is possible to have all the fun, excitement, and action of motorsport, but in a responsible way. It has also helped to make electric cars more attractive to the public. I have been involved in motorsport for a long time and love racing, but there is a personal conflict between my love of competing and my personal interest in sustainability. With Formula E, I am fortunate that I can combine these.
Q. How did you hear about the Heart of England Forest?
A. I live in Warwickshire, and I saw and heard about the positive impact the Heart of England Forest was having on the local community, as well as on the environment. The maintenance of wild habitats and the planting and nurturing of new woodland is so beneficial to both wildlife and to mitigating our carbon footprint. I have also been on some of the incredible walks through the Forest, which has been particularly beneficial for wellbeing and connecting with nature during the difficult times we have all faced lately. 
Q. Which areas of the charity's work particularly resonate with you?
A. I have three young boys and I think it is important to educate them as best we can about respecting the planet and taking personal action and responsibility for its wellbeing. The educational support that the Heart of England Forest provides to schools and the public is something I am particularly supportive of. 
Also, trees and woodlands are being cut down left, right and centre, and so I am interested in the mosaic of habitats being created in the Heart of England Forest that will improve biodiversity, as well as mitigate carbon dioxide emissions. 
Q. Why did you decide to become a Forest Ambassador?
A. Alongside Formula E, I compete in sportscar endurance racing. While competing in Formula E is carbon neutral, I wanted to take action to mitigate my carbon footprint from my other racing activities – both the travel to and from these events, but also the race fuel that is used during an event. As a local charity, the Heart of England Forest is having a major impact in my region and nationally, and I wanted to support that action as a Forest Ambassador.  
Q. The benefits of being in the great outdoors are well documented, but what do you like most about spending time in the Forest?
A. For me, the best part of going into the Forest is the opportunity it provides to disconnect from daily life and the high-population density areas and busy city streets. To have a simple day, just experiencing the wonders of nature. You get to see glimpses of animals going about their daily lives without interference from humans – you cannot help but to stop and look and think how wonderful they are. Whether it is birds, cool spiderwebs, interesting leaves or the beautiful scenery, you get the opportunity to appreciate just how special nature is.