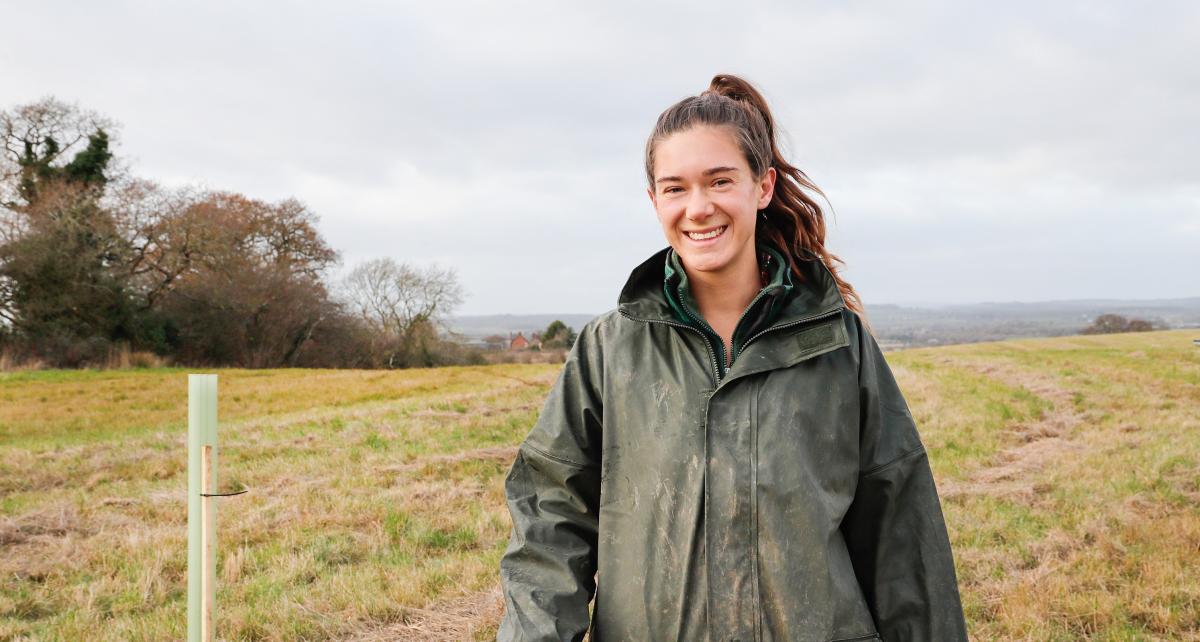 Growing the next generation of forest guardians
This week marks National Apprenticeship Week in the UK, and an opportunity to promote the many benefits that apprenticeships can bring to both businesses, individuals, the economy, and society as a whole. The theme for this year is 'build the future' and there has never been a more important time for us to consider what that future might look like given the current social and environmental challenges we face, and how apprenticeships can play a vital role in giving more young people the chance to be part of the solution.
Our apprentices at the Heart of England Forest are provided with a wide range of learning opportunities, including theoretical training and hands on experience of all aspects of social forestry. We are proud that our forestry apprenticeship and intern programmes are addressing a gender imbalance in what is an historically male dominated sector (over 30% of our forestry team is female) and that they offer a great route into the sector for people who may not have traditionally thought of forestry as a career path.
With the number of people seeking a career in forestry in decline, there is a risk of skills shortages in the immediate future if the volume of new entrants into the sector does not increase, and this poses a real threat to the future of our woodlands. 
Here we talk with former Heart of England Forestry Apprentice Phoebe, now a full-time Forest Ranger with us, about her experience of being an apprentice and what advice she would give to others looking to pursue a career in the sector.
What made you apply for the apprentice role at the Heart of England Forest?
"I've always had an interest in nature and the outdoors from a young age and after university I did quite a bit of travelling, working on organic farms to earn money along the way. This led to part time roles and volunteering opportunities in outdoor education, natural building, and permaculture, all of which reinforced my belief that a career which involved working outside and with nature was what I wanted to pursue.
I came across an internship role at the Heart of England Forest when I was looking on the Countryside Jobs Service website and, although I didn't get it, I did get offered an apprenticeship place and it seemed like a great opportunity to start my career in forestry and conservation."
Did you have any reservations about taking up an apprenticeship?
"As I had already been to university, I wouldn't necessarily have thought an apprenticeship was the right route for me and I was a little daunted about being back in the classroom with other students who were so much younger than me. 
Despite not really considering going back to college in my mid-twenties, I gained a lot of technical knowledge about different tree species and soil types, forestry management and planting techniques. Combining this with the practical experience of working day to day outside with the forestry team has probably given me a deeper, more well-rounded knowledge of different aspects of forestry."
Do you think there is equal access to opportunities for women within the sector?
"I know the forestry industry is quite male dominated and people working in it tend to be older, but I think that is starting to change now, particularly in the type of social forestry work I'm doing. As a young woman entering the industry, I did not really think much about whether there were other people like me working in it, but now I can see that more does need to be done to encourage people from diverse backgrounds to consider a career in forestry. It is not just a gender issue.
Apprenticeships could be a good way to achieve this because you don't need a university degree or any specific qualifications, just a real passion for the environment, ideally some volunteering experience in a relevant role – and the ability to spend long parts of your day outside in all weather!"
Since finishing your apprenticeship you have now gone on to be a forest ranger with the charity. Can you tell us about your most favourite and least favourite aspects of the job?
"My favourite aspect of the job is definitely being outside in all seasons, planting trees, seeing them grow and knowing that I'm part of something that is having a positive environmental impact. I love being hands on and find it really peaceful spending so much time outdoors, surrounded by nature. 
If I had to pick something that I found least enjoyable it would be weed management – I know it is a necessary task, but I also love to see nature growing wild as much as possible!"
What advice would you give to anyone thinking of applying for an apprenticeship in forestry?
"My main piece of advice would be not to worry about whether you have gone to university or have a load of relevant qualifications, it could still be the right path for you. 
Lots of people might say they're not very academic and be put off by the idea of the classroom elements alongside the practical work, but apprenticeships really are designed for everyone and with the right support from your employer, you could progress faster than you think."
 
Conservation careers
Are you interested in a career in the environmental sector, but not sure where to start? Find out from members of our forestry, biodiversity, and learning & skills teams about their routes into their current conservation roles. Get advice and tips here.