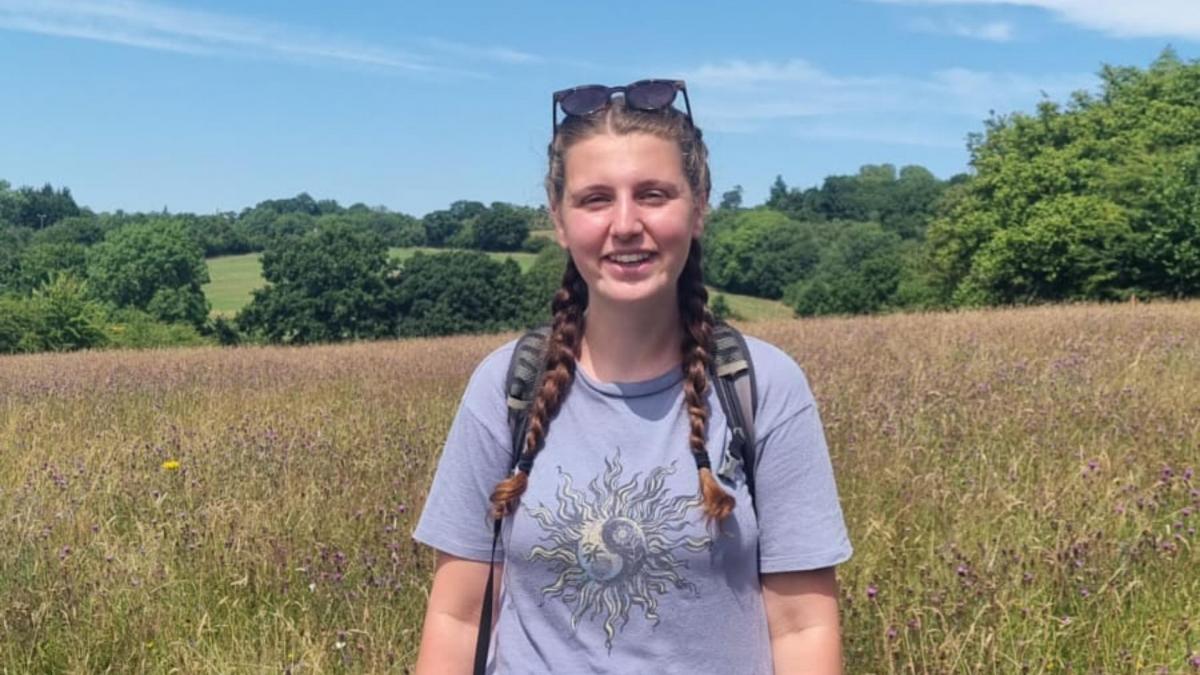 Meet the team: Becky Dennison, Biodiversity Intern
Creating and conserving England's largest new native broadleaf woodland would not be possible without our dedicated and hardworking team. Meet Becky, our Biodiversity Intern.
Joined the charity
June 2022
When did your interest in the natural world begin?
I would say I always have had an appreciation and interest in the natural world. Growing up in rural Herefordshire near the Welsh border I have been exposed to the countryside and wildlife since I was little. It was not something I thought about as a career until I was a teenager whilst completing an A Level in environmental science. 
You are at the start of your biodiversity career - what route did you take to get here?
Following on from my A Levels, I completed a year at art college where I had a very environmental focus in my work and realised I wanted to take it further. I have just completed four years at Sheffield Hallam University studying environmental science and graduated with a 1st Class honours. During this time, I completed an eight month placement with Sheffield and Rotherham Wildlife Trust, which I absolutely loved, and which gave me many valuable skills to help me progress into a career in conservation. 
What are you looking forward to most during your internship?
I am looking forward to increasing my knowledge about biodiversity and species identification by learning from my fantastic colleagues. In the short time I have been at the charity I have already learnt so much! Learning survey techniques is a great way to get an understanding of how species are recorded. I am also looking forward to getting involved in the volunteer work parties and interacting with our wonderful volunteers. 
What do think will challenge you during your year with the charity?
I have moved here from Sheffield and so, as I am not local to the area, getting to grips with all the various sites is already a little challenging! However, with time, I am sure it will become clearer. Another challenge sometimes (and maybe some of you experience this yourselves) is hay fever, which is not an ideal thing to suffer with in this sector!
What are your hopes for the future after your internship?
Currently my plans post my internship are wide open. So much can happen in a year, so who knows what the future holds!
What do you like to do in your spare time outside of work?
I like attending live music events, big and small, catching up with friends who are dotted across the country, and walking and cycling in my local area. I have always loved swimming and have recently started wild swimming, which has been a lovely way to unwind after a hot day at work. 

If you could be a creature of the Forest, what would it be and why?
With my love of spending time in and around water and having moved around a few times, I would say I would be a duck, potentially a female red-crested pochard which are brown, with white cheeks, a rich brown cap, and a grey, pink-tipped bill.
 
Interested in a career in conservation? 
Hear from members of our team about their routes into careers in conservation and get top tips for working in the environmental sector by watching our recorded event here.
As the Forest grows, so too does our team. If you share our passion and enthusiasm, then keep an eye on our jobs and careers page for current vacancies or find out more about volunteering with us here.