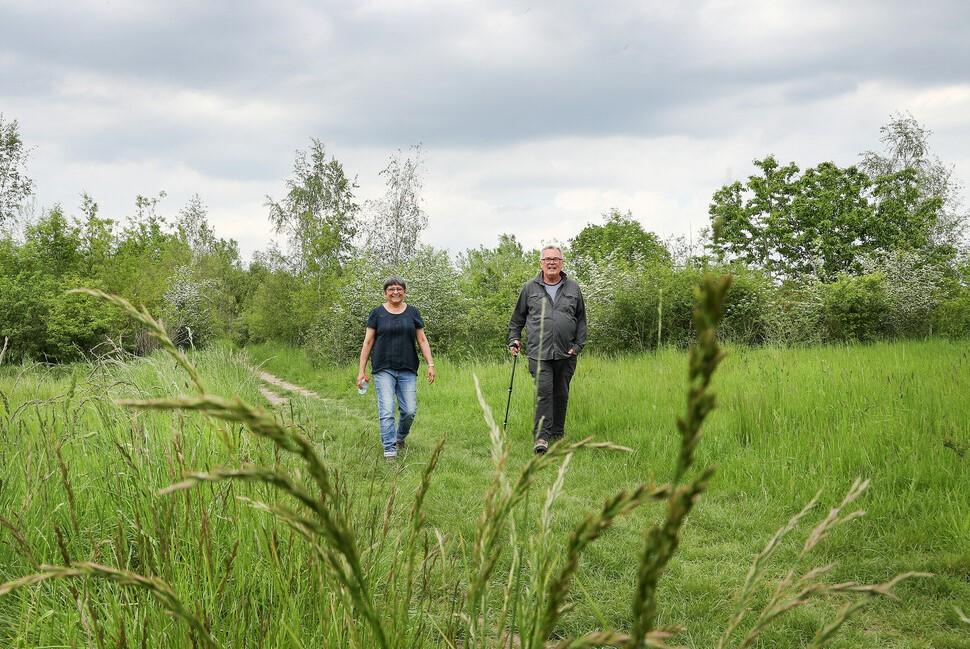 Move in May with National Walking Month
This month is National Walking Month, which encourages us all to walk more and get active. The many miles of permissive footpaths in the Heart of England Forest offer plenty of opportunities for people to get out and connect with the natural world.
One of the charity's key aims is to provide a haven for people to benefit their physical health and mental wellbeing. The Forest is the ideal place for this, as well as cultivating positive social interactions and connecting with mother nature.
Connection to better health
It is so important to keep active. A brisk walk every day is an easy way to improve your health as it reduces the risk of several preventable health conditions. Did you know that a 20-minute walk can reduce the risk of certain cancers, heart disease, and Type 2 diabetes?*

There is research that also suggests that being outside in nature helps boost mood too, as well as being a coping strategy for stress.

"70% UK adults say that being close to nature improves their mood. Also, almost half of UK adults said being close to nature helps them cope with stress." Fatmata Kamara, Mental Health Nurse Global Case Manager.
Mindful May
The benefits of spending time in the natural environment are well documented, but how can you maximise your time spent walking outdoors?  
While you are out and about in the Forest, or your local green space, why not try some of our wellbeing techniques to help boost your mood this month. 
Mindfulness
This is the practice of being in the moment. The idea is not to clear your mind of thoughts – it is more to just notice those thoughts as they come, not get involved with them, and let them float away, like a leaf on a stream. Our riverside walk is a gentle walk through woodland and the river meadows along the banks of the River Avon, with stunning views over the surrounding countryside – the perfect opportunity to practice mindfulness while listening to beautiful bird song.
Fresh air
Having clean air to breathe has huge impacts on our health and wellbeing. The focused practice of breathwork can help us reconnect with our breathing and improve the way we feel.
Forest bathing
Forest bathing, or Shinrin-Yoku, is the Japanese practice of spending time around trees and being mindful of your environment. This is not exercise, or hiking, or jogging. It is simply being in nature, connecting with it through our senses of sight, hearing, taste, smell, and touch.
Grounding
Slipping off your shoes and socks and connecting to the earth with your bare feet not only feels good; research suggests that this simple act can boost immunity, strengthen muscles, and improve sleep. Find out more about grounding. 
Joining a local walking group can be a great way to get outside and get moving. Rambler's Wellbeing Walks are England's largest network of health walks with over 400 active schemes, helping people across the country lead a more active lifestyle and meet local people in their area.  
Walks and trails in the Forest
We have eight waymarked trails which enable visitors to explore the Forest. These include gentle 1.5 mile strolls for those who just want a taster of the great outdoors to get away from the hustle and bustle of life, as well as longer trails such as the 4-mile Founder's Walk which takes in stunning views across some of the newly planted woodland in the Dorsington area. Much of the area around Dorsington is open to permissive access, so you can link trails together and create your own favourite walks. Find out more about our woodland walks. 
We understand that getting into the woodland can be difficult for some, so we have created a specially designed accessible trail suitable for wheelchairs, pushchairs, and people with limited mobility.
This trail takes you on a loop of a new plantation as well as immersing yourself in more mature woodlands. With plenty of sunny areas to get your daily dose of vitamin D, there are also places to sit and rest in the shade and take in the chirps of the birds, the rustle of the leaves, and the shimmer of grass blades in the wind.
Exploring the areas around the Forest
In addition to exploring the Forest for the day, you may want to experience it in a slightly different way this May. Come and stay for a longer period in one of our eco cottages to enjoy a few of our walks, attend an event, and explore some of the great surrounding areas and towns at your own pace.

Stratford-upon-Avon is perfect for visiting for the day with family while you stay in the Forest as you are only a short distance from plenty of historic culture and shopping spots, as well as some great attractions and play areas for children - there is something for everyone! Historic market towns of Alcester, Evesham and Pershore are also on our doorstep.

Visiting us by waterway is a unique way to observe the Forest and local areas. Visit us for a couple of days or a couple of weeks, or choose to moor your boat here for the year, as the walks, wildlife, and local pub all within arm's reach makes for a delightful trip. Find information about staying in the Forest.
Be sure to pass by Droitwich Spa either side of your visit and sightsee the wonderfully quiet waterways and walk through surrounding countryside. A walk that our partners over at Wychavon District Council recommend you try this National Walking Month is The Hadzor Circular link.
Share your walks
Please share your favourite Heart of England Forest walks with us on social media. We would love to see you out and about enjoying our trails this National Walking Month.