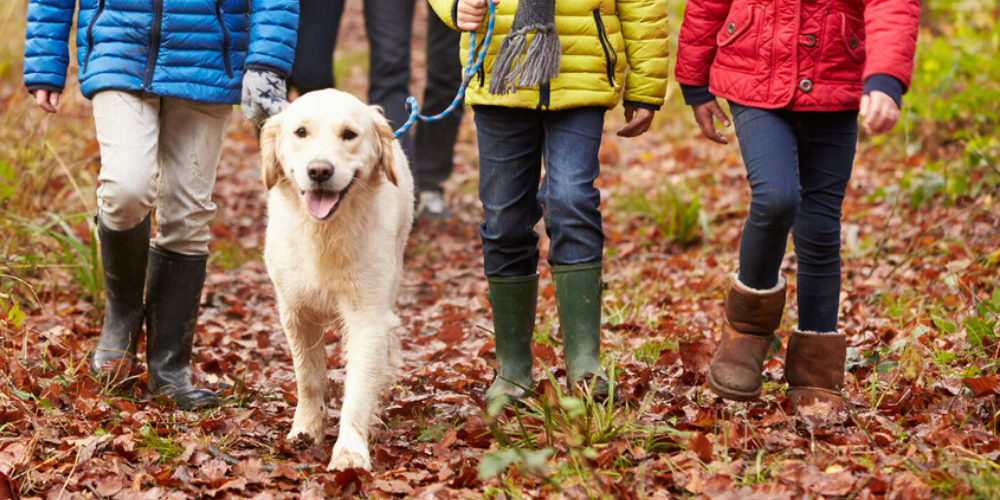 Walking with dogs in the Forest
Walking with dogs in the Forest
There is no better place than the great outdoors, especially for man's best friend! That's why we welcome dogs in all of our woodlands. The Forest is full of enrichment and great for exercising dogs, however, this must be done in a respectful way so as to not disturb wildlife or other Forest visitors. 
We want to ensure you, your dog, and the native wildlife are unharmed on our land, so please follow the Countryside Code to ensure a safe and enjoyable visit to the Forest. 
Dogs must be kept under control at all times, or on leads
Keep your dog under effective control and in sight to make sure it stays away from wildlife, livestock, horses and other people unless invited. Unless you are confident your dog will return on command, always keep them on a lead and make sure your dog does not stray from the path or area where access is offered.
Dogs can disturb wildlife
We have ground-nesting birds in the Forest which can be disturbed or even killed by dogs. We ask that you are especially mindful of wild areas during nesting season (February-August). Please also stop your dog swimming in ponds in the Forest as waterfowl nest too. 
Understand that some visitors may not be comfortable around dogs and act appropriately
The Forest is accessible to everyone, but not everyone is comfortable around dogs. If a fellow visitor politely asks to recall your dog, even if your dog is friendly, you should do so respectfully.
Some dogs do not get along with others
Dogs can be uncomfortable around other dogs or people so please give other visitors and their dogs space. If approaching a dog being walked on lead, it is respectful to mirror the behaviour, keeping your own dog close or on their own lead while passing.
Pick up after your dog
You must pick up your dog's poo and dispose of it in the bins provided in our car parks, or take it home with you if you cannot find a bin. Dog poo can harm wildlife and cause illness in people and animals, so it is important to pick it up immediately.  Please refrain from leaving poo bags in the Forest, even if your intention is to collect after your walk. 
Livestock in the Forest
The Heart of England Forest has a working farm, and as part of our conservation grazing programme, you may come across sheep and cattle when walking in the Forest. Please keep your dog on a lead when walking through areas with grazing animals.
Neighbouring farms
We have many farming neighbours across the Forest. Livestock in fields may not always be immediately visible to you, and livestock fencing and hedges aimed to keep livestock in doesn't always keep a dog out. For you, your dog's and the livestock's safety we ask that you keep dogs on a short lead when walking both alongside and through neighbouring livestock fields with public access.
Furry friends welcome
Many of our guided walks in the Forest allow dogs on leads.
Visit our events page to see the list of upcoming guided walks.  
We also have two dog-friendly holiday cottages, so why not bring your furry friend on your next Forest getaway!