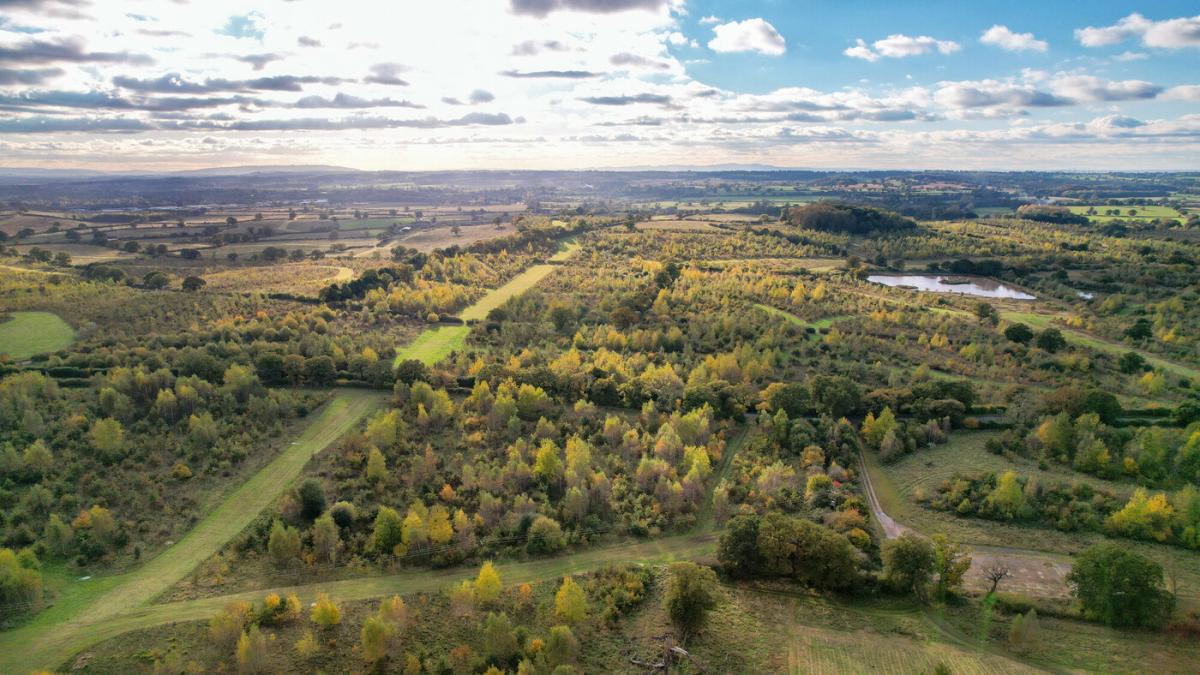 Creating a lasting green legacy
As we work towards our goal of creating a 30,000 acre broadleaf forest in the heart of England, it's important that we focus not just on the steps we need to take today to achieve this vision, but the long term impact these actions will have on people and planet.
We know that, while tree planting is a critical part of creating a better environmental future for the next generation, simply filling a field with saplings to reach planting targets will not go far enough to guaranteeing a legacy in the form of a greener, more biodiverse landscape.
Our Forest and beyond
We have been drawing on our knowledge and years of experience to develop a set of 'Here for Life' principles that will act as a guide to help us, and other organisations, maximise the amount of biodiverse forest created over the next 100 years and beyond. 
These principles will also help us to highlight the importance of creating biodiverse habitats that support not just wildlife, but human life, and give us all the best chance of adapting to our changing climate.
Here for Life principles
Learn more about our principles and some of the ways that we are putting them into practice:
1. Prioritising establishing and growing forests that provide biodiverse habitats
Protecting and restoring Britain's forests must go beyond trees. Schemes must consider how to maximise biodiverse interconnected habitats that support the UK's native animal and plant life. They must also consider human life, and what sort of spaces most benefit diversity through accessibility, and future generations. Almost 6 in 10 people in a recent survey we ran said that creating healthier habitats for humans to live in is key to creating a green legacy. 
To work towards this aim, we are creating a connected Forest with green corridors, hundreds of miles of access for people to spend time in the outdoors and are collaborating closely with partner organisations and the Local Biodiversity Action Plans to ensure the habitats created support and contribute to these.
Growing forests with biodiversity in mind can be a powerful tool to protecting and fostering threatened native species such as the brown hairstreak butterfly, skylark, linnet, and brown long-eared bat, all of which can be found in the Heart of England Forest.
2. Learning from the past, adapting for the future
What is left of Britain's small pockets of ancient woodland teaches us many lessons about how we can help to protect and preserve trees today. The planet is changing rapidly, and climate adaptation is more important than ever. Forests being planted must not just be for the planet we have now, but the planet of the future if they are to stand the best chance of survival. We must consider population growth, a warming climate, flooding and droughts, and the impact of these on our woodlands. 
We plant a variety of up to 30 native species to create a climate change resilient woodland and mitigate against losses and our team keeps up to date with the latest scientific research on climate change adaptation for conservation and woodlands. We are putting back the woodlands that were lost in this part of the country, for example where the ancient Forests of Arden and Feckenham once were, and acquiring, enhancing, and protecting woodland where we can, such as at Alne Wood, Roundhill Wood and Fern Bank Wood as part of the Forest mosaic. 
3. Think Global - Act Local
There is no 'one size fits all' approach to tree planting. While the challenges of protecting our forests are national, and even global, we must adapt our approach to suit local habitats, climates, and geographies. Even across the UK, this ranges dramatically from place to place, and what is right in some areas is not right in others. Our forests, wetlands and hedgerows across the country are intertwined and physically connected, providing migration corridors for biodiversity, helping to create resilience to climate change.
Local partnerships are vital to the work we do as an organisation, whether that's partnering with local businesses or local authorities on projects such as those to alleviate local flooding, or engaging members of our community as volunteers. We also share our research and learnings with other regional and national stakeholders to help inform conservation efforts across the board. 
4.Creating spaces that are part of the fabric of our communities 
Forests will be spaces of vital importance for generations to come, and we must also consider how they become part of local collective heritage and culture, so that they are valued by all. Today's young people will be the ones looking after forests of the future, and should be involved in their creation and preservation from the very beginning where possible. We strive to involve local people of all ages and backgrounds in the growing and protecting of our forests, both old and new, through community outreach.
Helping create a Forest that is here for life
Whether people get involved through volunteering opportunities, access to events and activities within the Forest, or some of our regular clubs and education programmes aimed at instilling a love of nature from a young age, we want everyone to feel that they have a role to play in, and can benefit from, ensuring the forest continues to grow and thrive and provide a haven for life in all its glorious forms.