2. Optimising Biodiversity
Our specialist team is leading on habitat creation and management, and the monitoring of species and habitats, to increase their value for wildlife.
Proudest achievements
New wetland created on the Noleham Brook at Pitchell Wood

This project involved the collaboration of several local stakeholders, including the Environment Agency, Wychavon District Council, Worcestershire County Council, and local contractors, working together with us to achieve results for wildlife and the local community.

We successfully restored a wetland floodplain habitat feature which will attract more wetland wildlife, whilst 'slowing the flow' along a major flow route to help alleviate flooding in the village of Broad Marston.

Growing Future Forest Guardians project

We were awarded funding from the Green Recovery Challenge Fund (GRCF) for a two-year project at our Gorcott Hill site. One of the main goals of the project is to restore and enhance the habitats and wildlife that already exist at the 62-acre site near Redditch. The site contains ancient semi-natural woodland, hedgerows, grassland, and ponds, which are all priority Biodiversity Action Plan (BAP) habitats. The work will improve conditions for wildlife and maximise the potential of the site through good management of woodland, grassland, and pond habitats.

Partnership working with Warwickshire Wildlife Trust as part of the Avon Restoring Natural Processes Group

On our land at Arrow Mill, in the River Arrow catchment, we created four backwater pools/ scrapes and installed three leaky dams. Warwickshire Wildlife Trust's topographical survey helped to identify these opportunities, and these works also involved a joint volunteer work party with the Wildlife Trust, putting together the leaky dams and plug planting. Further enhancement of the reedbed is planned for a future year as another partnership project.
The focus for Optimising Biodiversity in 2021/22 involved the delivery of biodiversity elements within the Green Recovery Challenge Fund (GRCF) project, and the continuation of the Severn Trent funded Pollinator Pathway project. As part of the GRCF project, 18ha of grassland was enhanced with 20 species of wildflowers and grasses, and wildlife surveys were undertaken in five different areas of the Forest, providing baseline information on the invertebrates, birds, and plant species present.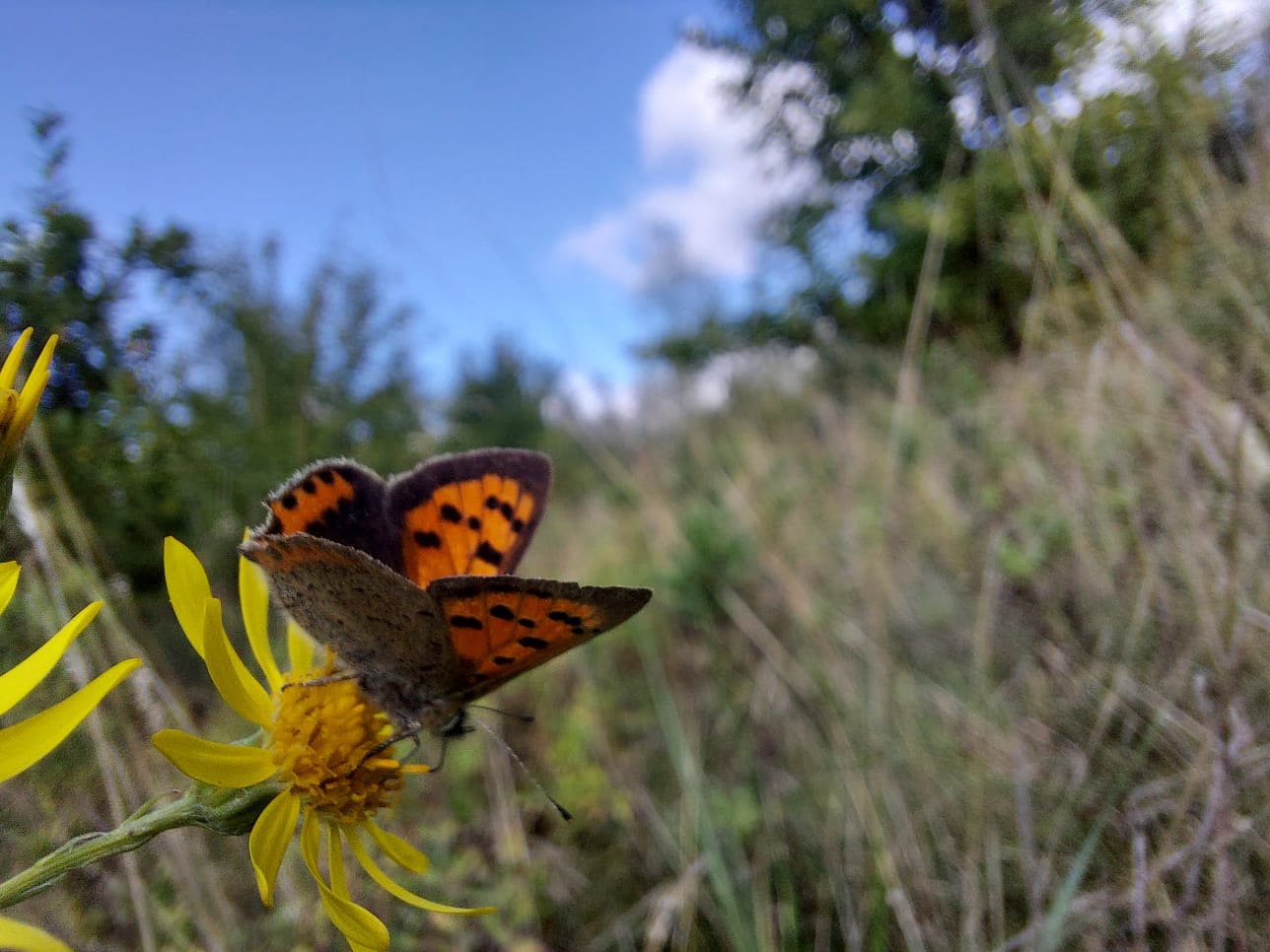 Our strategic planning also focused on running water. To this end, the Heart of England Forest worked in partnership with the Environment Agency and Warwickshire Wildlife Trust as part of the Avon Restoring Natural Processes Group. Through this partnership, and from evidence gathered by surveying watercourses in the Forest, we created new wetland habitat on our land adjacent to the River Arrow. Our relationship with the Environment Agency has further been strengthened by working with them, and consultants ARUP, on a joint scoping project along the Noleham Brook where we are exploring opportunities for significant riverine enhancements.
We also successfully carried out our first Forest BioBlitz in 2021 of Alne Wood and Middle Spernal, recording a total of 363 animal and plant species over 24 hours with local experts and members of the public. Participants were excited to see four Daubenton's bats flying over the Middle Spernal pools, and a massive 145 moths recorded in Alne Wood, including 28 species not previously recorded in the Forest. Several Red List birds of conservation concern were recorded singing including yellowhammer, reed bunting, and grasshopper warbler and the Local Biodiversity Action Plan (LBAP) white-letter hairstreak butterfly was seen in Alne Wood.
Whilst undertaking the pond surveys we caught great crested newts, and the locally uncommon needle spike-rush was found at Middle Spernal. 
We added several calcareous plant indicator species to our list - yellow-wort and glaucous sedge - and ancient woodland indicator species wild service tree and yellow pimpernel at Alne Wood.
Team highlights
"The past year has been full of highlights and dreams coming true. Not only was I employed as an intern for a charity that is aligned with my beliefs and life goals (after years of trying to get into the sector), but I also gained a promotion to become Gorcott Biodiversity Officer, a role in which I get to live my dream job on a daily basis. Over the last year I have had the opportunity to learn from both external and internal experts within their field, and my identification skills have dramatically improved. I have nurtured my passion for flora and have focused on improving my knowledge. A final highlight is the sheer number of species I have observed, particularly through setting up the Honeybourne reptile transect, where I was able to observe numerous slow worms, common lizards, and grass snakes. Getting to share this knowledge with our Friends of the Forest whilst leading an exclusive guided walk for them was fantastic."
Tasha Cain, Gorcott Biodiversity Officer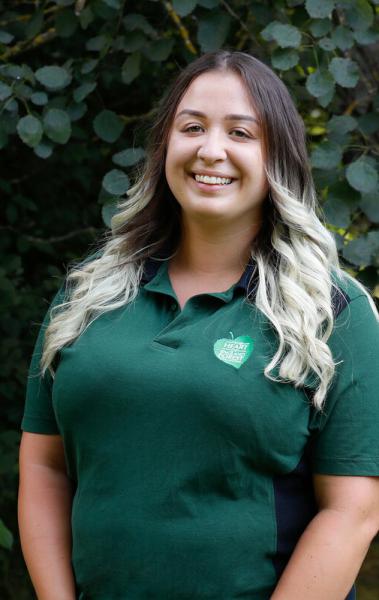 As with most areas of the charity, the Optimising Biodiversity area of our work has encountered significant price increases for materials. For example, the native wildflower seeds used in our Pollinator Pathways grassland enhancement have increased in price fourfold in the last couple of years. These rising costs provide a challenge for our budgets and will limit the amount of habitat creation and enhancement work we can undertake.
During 2022/23 Optimising Biodiversity will focus on delivering our Pollinator Pathway project, now entering its third year, as well as the biodiversity elements of our Growing Future Forest Guardians project at Gorcott Hill.
Our strategic planning also focuses on grasslands, undertaking baseline condition assessments of key grassland areas such as Naunton Court Meadows SSSI (Site of Special Scientific Interest) and potential Local Wildlife Sites at Gorcott Hill and Binton.
Livestock is important to the management of many grassland areas, and we will review our grazing licences with local graziers and the infrastructure required to meet our conservation objectives across the Forest. We will also expand the number of butterfly transect surveys to include new areas of grassland within the Forest and undertake a review of the bird of prey nest box surveys, now in their tenth year.
The importance of recruiting new volunteers and providing training in wildlife surveying and practical habitat management continues to play a vital part in optimising biodiversity across the Forest. This enables the long-term monitoring of wildlife and the enhancement of their habitats to be achieved.
The expansion of the biodiversity team to six members of staff, with one staff member in a training internship role, is providing a greater opportunity to connect with local experts and work in partnership with other organisations. Our wetland projects continue to develop with plans to deliver more habitat enhancements in early autumn, as well as the developing long-term opportunities along waterways within the Forest.