6. Volunteering
As the Forest grows, so too does our volunteering programme, ensuring that it supports the strategic aims of the charity whilst offering a broader range of opportunities for people to give their time whilst gaining new skills.
Proudest achievements
Over 55,000 trees planted by volunteers

Over the winter season our volunteers planted 55,000 native tree saplings in new areas of the Forest. This is a significantly higher number compared to previous years, showing what a valuable contribution volunteers make to the charity achieving our tree planting targets and growing the Forest.

 

Training videos produced

A range of biodiversity training videos are now an easily accessible training resource to help volunteers undertake regular surveying in the Forest. The sessions were run by staff members and external experts, and include habitat surveying, butterfly identification, recording and monitoring, and bumblebee ecology and surveying. Run as online events that volunteers attended during the year, the videos are now available for ongoing training of new volunteers.

Significant growth in the number of volunteer opportunities available

Volunteering is now well and truly supporting all the strategic pillars of the charity and is seen as an integral part of our work.
A growing volunteer programme
In 2021/22, our volunteer programme has grown substantially, exceeding our predictions, with multiple volunteer teams working across the Forest, carrying out a greater range of activities to support the work of the charity. Volunteering sessions now run five to six days each week, with three activities running concurrently on some of the days.
The growth of the biodiversity and tree nursery teams has opened additional opportunities for volunteering on a wider scale, providing regular volunteers to support both practical and survey based work. We have also had the opportunity to introduce a regular volunteer session in the Garden of Heroes and Villains, providing additional support to keep the garden in top condition ahead of fundraising open days and other visits.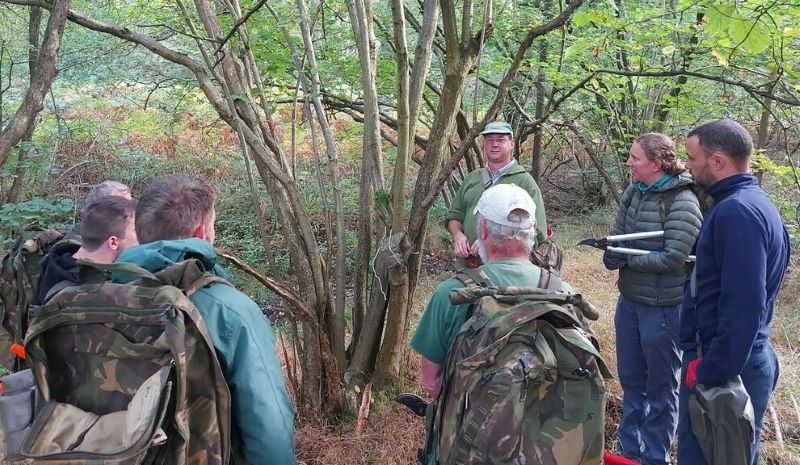 Over the year there was a focus on fulfilling the volunteering related aspects of the Green Recovery Challenge Fund (GRCF) grant we were awarded in December 2020. We successfully recruited two further Volunteer Leaders, individuals that are trained and supported to lead small groups of volunteers, which enabled us to increase the number of volunteering sessions held and expand the locations in the Forest we cover.
Record number of hours given
A staggering 10,078 volunteer hours were given between April 2021 and March 2022, a record number for the charity, even more impressive considering the continued COVID-19 restrictions. This equates to almost 5 Full Time Equivalent staff members.
5km of new and restored hedgerows created
The volunteers were heavily involved in the creation of new hedgerows across the Forest as part of the GRCF grant. The volunteers helped to plant 25,000 hedgerow trees in various areas of the Forest over the winter season, an activity that they particularly enjoyed as it made a change from our regular tree planting.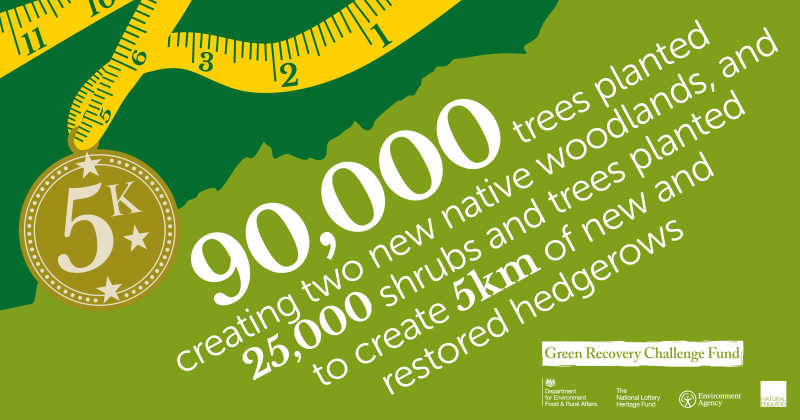 New volunteer survey launched
This year we conducted our first volunteering survey, asking our volunteers for their thoughts and opinions on our volunteering programme, while also gathering important information on our volunteer demographics. The survey went out to those subscribed to our volunteering newsletter, and we were pleased to achieve a 20% response rate. The results showed that we are running a good volunteering programme which appeals to our volunteers for a wide variety of reasons. It also provided some great suggestions for additional ways we can enhance the programme as we continue to grow.
The success of this survey provides a solid foundation to run an annual survey that not only helps us understand our volunteer base, but also ensures we provide regular opportunities for our volunteers to share their experiences, feedback, and ideas. The information gathered can be used to track trends over time and assess the overall volunteer programme. This is going to be increasingly important as our volunteer numbers continue to swell, and volunteering expands further to support all areas of the charity's work.
New volunteer taster events
Volunteer taster events were implemented in 2021/22 to encourage new volunteers to come and sample our activities. The three events held resulted in four new volunteers, one of which has now joined our forestry team. While they did not lead to a substantial increase in volunteer numbers, they did show the benefit of running individual 'open' volunteer events, which are more accessible to those who have not previously joined us. This coming year we hope to see how this can be utilised for community volunteering.
Team highlights
"I started volunteering as I wanted to help be part of the solution, tackling climate change and addressing habitat loss. The staff and other volunteers have always been so positive, welcoming, and supportive. No matter the activity (and weather conditions) it is always fun, everyone mucks in and there is a real sense of people coming together to make a difference. Volunteering with the Heart of England Forest exemplifies the fact we can all do something today, however small, that collectively makes a huge difference for the future. Personally, they've inspired me to make a career change to the environmental industry. I can't recommend volunteering with the Forest enough!"
Leon Lewis, regular volunteer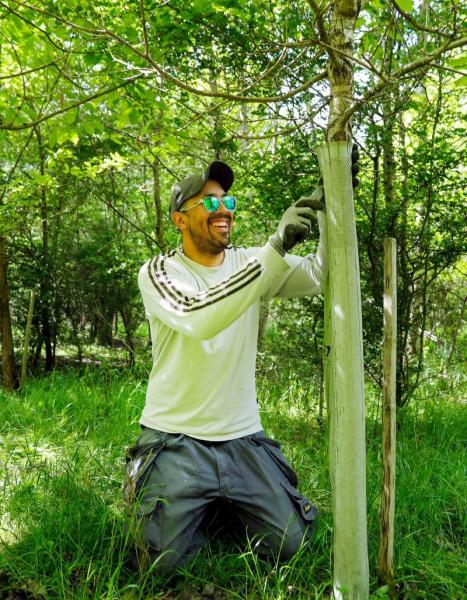 The past year has continued to see impacts from the COVID-19 pandemic, and this has reflected on the volunteering programme with volunteers off due to illness and some not attending sessions due to COVID-19 risks.
The significant growth of volunteering has at times been a challenge from an administrative point of view. While wonderful to see so many new volunteers and volunteer opportunities, this has also created a significant amount of work coordinating the overall volunteering programme which is currently managed by just one member of staff.
Towards the end of this year, we started to see the rise in the cost of living and in fuel costs in the UK. This has an impact on volunteering, which could reduce the ability of some volunteers to travel to the Forest. This may become more significant over the coming year as prices carry on rising.
As the programme continues to develop, and we work to attract more volunteers, we are delighted that additional staff roles are planned in 2022/23. Investing in volunteering will help ensure we deliver a rewarding experience for volunteers while supporting the charity to achieve its mission.
This coming year is a bright one for volunteering. We are growing at quite a pace and there are plenty of areas where we can further grow, develop, and expand. We are keen to work closely with the learning and skills team to help grow our potential for supporting volunteers who have Special Educational Needs and Disabilities (SEND).
While our Binton and Coughton Park Tree Nursery sites are developing to allow for more visits, we are keen to find additional ways to get volunteers out across the Forest. Further training for volunteers and staff will help support this, and hopefully result in a more diverse and inclusive volunteering community.
The growth and expansion of our community volunteering programme will be a key area, building on from important research and initial contact made during 2021/22. These visits are a great introduction to volunteering in the Forest for people who may not yet know of, or have yet to visit, the Forest, and will hopefully encourage future visits from attendees.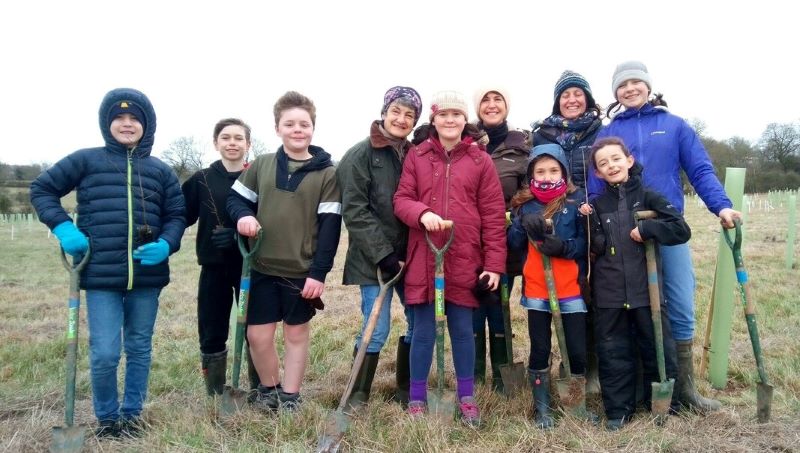 With a broad range of volunteer opportunities to take part in and four Volunteer Leaders in place, we can now focus on growing the number of volunteers to support work across the breadth of the charity. This in turn will enable us to consider further expansion of the volunteer programme, as activity availability and volunteer numbers need to grow proportionally.
This year we are also planning to expand weekend volunteering opportunities and introduce early evening activities in the summer to better suit volunteers who also work.
Could you give your time to help grow the Forest?